Sports
Zhang Zhizhen becomes first Chinese man to qualify for Wimbledon in Open Era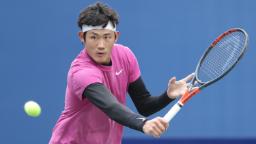 The 24-year-old is only the fourth Chinese man to play singles in the main draw of a Grand Slam tournament since the Open Era began in 1968.
Wu Di (2013, 2014, 2016), Zhang Ze (2014, 2015) and Li Zhe (2019) all played at the Australian Open.
Wimbledon, the only major tournament canceled in 2020 due to the Covid-19 pandemic, will return to its usual routine this year with the main draw starting on June 28.
https://www.cnn.com/2021/06/25/tennis/zhang-zhizhen-wimbledon-spt-intl/index.html?utm_source=feedburner&utm_medium=feed&utm_campaign=Feed%3A+rss%2Fedition_tennis+%28RSS%3A+CNNi+-+Tennis%29 | Zhang Zhizhen becomes first Chinese man to qualify for Wimbledon in Open Era