Woman trying to keep her relationship open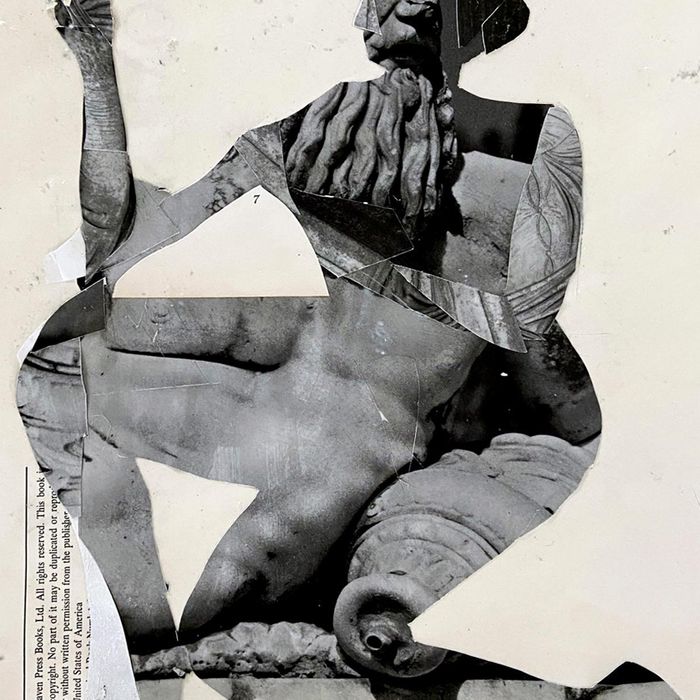 Photo-Illustration: James Gallagher
This week, a sex educator plays with her new toy while wondering about the official status of her two-year relationship: 27, in love, Brooklyn.
DAY ONE
7:15 am I slept like the damned. Last night, I ate a whole bag of chips before going to bed and had a stomach ache all night. Why do I do that?
9:30 am I wake up, get dressed and feel a little better. My work is quite unique as I work in sexual health care. Without giving away too many specifics, I have loads of lube, vibrator, butt plugs – to say the least – in my apartment all the time.
12:30 pm After a long morning. We met online and have been together for two years. We're always open-minded, but that's just in theory, not in practice. I haven't been with anyone but Z since we met, and I think neither has he. It makes our sex great and we're so happy together. There is also the fact that COVID keeps us together and unable to discover others. It's strange to know that we are now completely free to do so now that we have truly become a couple. I asked Z if he could come for a lunch break, but he couldn't – he works in film, and he's in the middle of producing something.
1 pm I try a new vibrator that penetrates both my front and back. It's not terrible…not terrible at all.
5 p.m I go grocery shopping so I can make dinner for Z and me tonight; I take some wine.
7 pm We are eating and laughing. I asked him if he wanted me to use this new vibe on his ass. He politely declined. I'm definitely more of an adventurer than a gender wise person, but his vanilla girl is adorable and his dick is phenomenal.
9 pm We made love quickly and fell asleep in my bed.
MONDAY
8 a.m One problem with Z is that he snores. I never slept well the whole time we went to bed. I told him about snoring, but I didn't want to embarrass him about it too much. Anyway, I'm very tired today.
11 a.m I'm zooming in on a serum that's supposed to make one's clitoris tingle. Call me a purist, but can't a tongue do the same thing?
2 p.m I left my apartment to take an hour's walk and listen to podcasts. All very boring. How come everyone has podcasts but no good podcasts?
6 pm I met Z for sushi. He's in a bad mood because his feelings are hurt at work (or something like that). I feel so selfish sometimes because in moments like this, I'm like, I don't really care. I just don't like hearing other people whine. I was also very tired and still irritable.
7 pm After dinner, I told ZI needed to get a good night's sleep and that I thought we should go our separate ways for the night. We have a hot goodbye. Suddenly I'm wet and want to fuck – I know he likes me too – but I don't want to be a jerk, so I wave him goodbye. We have a lifetime to fuck each other.
THE THIRD DAY
9 am Get my boost shot, yay!
10 am Reward yourself for the aforementioned boost by eating a $25 plate of pancakes at a nearby posh cafe. They are wonderful. I like to eat alone. It is one of my greatest pleasures.
3 pm I was thinking of going online to find a female lover. The strange thing, to me, is like an opening: It's just words, not practice. I define myself as weird even though I usually only sleep with men. I dated a woman before I met Z. That was just the end, but the sex was amazing. I want to meet a woman I can try. However, it takes a lot of effort…
5 p.m I'm finally too lazy to find a hot woman to fuck online. Instead, I ordered Thai food. Z has work tonight, so I go alone.
8pm I've masturbated so many times my vagina feels like it's vibrating even though it's not. It's like when you get off a boat and your body is still swaying.
10 give me I download a dating app and make my profile very private and so I'm only looking for women. I don't want Z to see me there, even when we're open. I will tell him I am online dating at some point, but the moment is not right… we have never changed the terms of our relationship, but we are very much in common. commitment and commitment in practice. It's so complicated!
I want an open relationship because I know myself and that I am very sexual. As for Z, he agreed to that without really thinking about it, I think.
THE FORTH DAY
10 am Today's zoom is about anal beads and butt plugs. No judgment, but not my thing. One interesting thing about my vanilla boyfriend is that he doesn't try to eat me. The whole world under the age of 30 is clinging to the registration race.
3 pm I caught up with my parents, who lived in the Midwest. I hate telling them about my work, so we're going to talk about the breakout cases of COVID instead. They're slightly on the right, so the whole thing is brutal!
5 p.m I have matched with several women online. These days, it's easy to stay connected. I didn't feel right when someone was walking past until I told my boyfriend this was happening. Again, it's weird to talk about sex when we're in a technically open relationship! Nothing is simple, not when it comes to love.
9 pm Z and I are lying in bed after having sex. I said to him, "Are we still open?" He said, "Do you want to open up?" Somehow in that moment, I blatantly lied to him. I say no. I just want you." In that moment, I just wanted to be with him. That's right. But just a few hours ago, I was flirting with other people with the intention of sleeping with them. His reaction was so sweet. "I just want you too." Are we both lying to each other? I don't know…
Mother's Day
9 am We were both off work this morning. I pulled out some new toys to play with in bed. I told him to insert a small vibe inside my vulva. He seemed surprised by this because I had trained him that we wanted the vibrator on and around our clitoris. I told him I'd rather he come down on me with the vibrator inside of me. He followed instructions excellently.
10 am After drinking coffee, I started an open conversation again. I decided to go for the sake of honesty. I told him I was curious about our boundaries and that I downloaded a dating app and might want to start cheating on other guys, especially women.
10:30 am Z says it feels regressive to start sleeping with someone else when our relationship has grown so strong and we're in love. I won't tell him strong protested, but he seemed annoyed with the idea. He's not one to tell me what I can or can't do… but his truth is that he'd rather officially end our relationship. I'm still not sure how I really feel.
4 pm I texted Z that I wanted a night off. I want to go out alone and try to think clearly.
9 pm Five hours later, I'm flirting with three different women, all of whom want to come and have some fun tonight. I stop. But I think about one of them in particular: F. She's beautiful, tough, and extremely charming. My fantasies are too dirty to tell.
SIX DAYS
8 a.m It's the weekend, and I love to cook, read, and exercise over the weekend, so I'm excited for a great day ahead.
10 am Z texted that he wanted to meet for lunch. We choose a place.
1 pm After lunch, Z said that he was not at all pleased with our conversation. I didn't know he was this fragile. I told him I was frustrated because he was "hurt" when we were technically still public and I never had to explain this to him in the first place. Honestly, I'm off that he seems very insecure. We end the war. It was our first big fight.
3 pm I was walking around the neighborhood alone and, again, trying to figure out what the hell I wanted and didn't want. Is a couple of nights with F worth the pain of Z? Am I not allowed to do what I want? Is it time to grow up and understand what it means to be responsible for the wants and needs of others?
4 pm I took the drink alone. Alas, I ended up flirting with people online as I sipped my cocktail.
9 pm I read a bit and went to bed alone and worried. I haven't heard from Z since our lunch, which ended badly.
10 give me I texted him "I love you." And then I turned off my phone. I don't want to stay up all night wondering if he wrote anything back.
DAY SEVEN
7 am He wrote back. "I love you more." I wonder if that is true. It's not a bad thing if it is. My father loved my mother more, and she had a very good life because of it. He loves her and treats her well. Z also loves and treats me well. Is that enough?
11 a.m I do not know. I'm only 27. Why should I stop myself from exploring my sexuality with as many people as I want. It feels wrong to turn off my picks and abilities right now. Maybe one day I will, but for now, I still want to be a 20-year-old doing crazy things and discovering fun and explaining myself, well, nobody. I texted Z that I think we should meet tonight.
3 pm I worry all day. I feel like this dinner could turn into a farewell dinner. I don't want to lose him, but I feel strongly that I don't want to be monogamous right now.
4 pm I tested my decision by asking F if she would like a drink tomorrow night. When she said yes and we solidified a plan, I was both terrified and mad.
7 pm Z looks gorgeous at the cute new restaurant we met. Suddenly I rethink everything. He smells so good, and he has a great voice when he gives orders, and he's a great communicator, and… like I can see our whole relationship go by. light before my eyes. I want to hold on to him, and I also want to hold back my curiosity about my sexuality. The only way for both to exist is to tell him that we have to keep our relationship open. He shouldn't feel threatened by that. Most likely nothing will change. I'm doing it to keep us alive.
9 pm By the end of the night, he agreed. Totally agree. He realizes that "we" will still be us – that this change will not change how close we are, how much time we spend together, or how much I love him. I also think the alcohol has started. I blinked and imagined him sleeping with the most beautiful women in Brooklyn… and for a moment of panic I wondered, What did I do?
Want to submit a sex diary? Email sexdlets@nymag.com and tell us a little bit about yourself (and read our submission terms here.)
https://www.thecut.com/article/sex-story-the-woman-pushing-to-keep-her-relationship-open.html | Woman trying to keep her relationship open