Weekly Horoscope for the week of December 6 according to Cut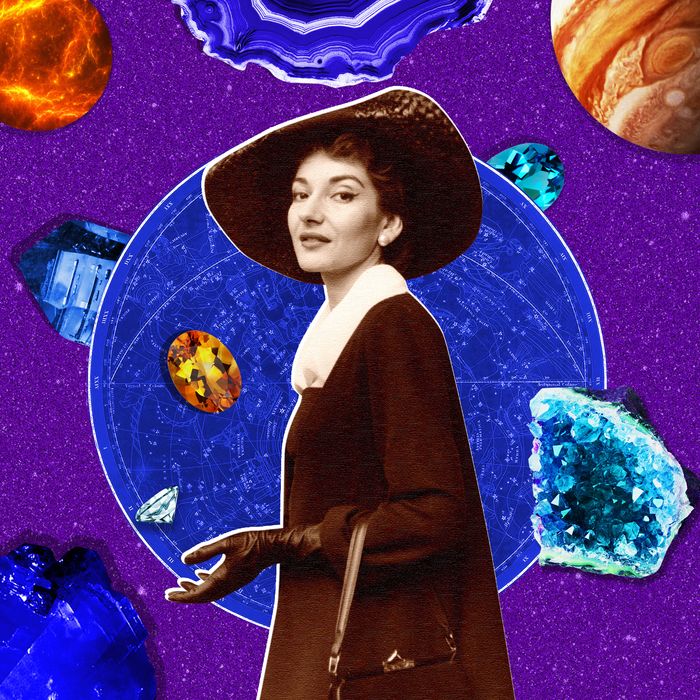 Soprano operating Maria Callas, Sagittarius.
Photo-Illustration: by Preeti Kinha; Photo: Getty
Although this lunar eclipse season officially culminates with last Saturday's solar eclipse in Sagittarius, its consequences can still be felt this week. The dust is still settling, and you'll only be disappointed if you expect the conflict the eclipse caused, or the questions it raises, to be resolved. New stories were still going on, and they declined hastily. You can't force changes to come faster; you can just keep showing up to do your own little piece. You may feel like you're moving too slowly, but as long as you're moving, you're doing exactly what you need.
When the days are short and cold, it's easier to become pessimistic than ever. You begin to believe that you have used up every opportunity for joy, adventure and romance, that everything sweet exists only in the past. This week, however, the world is showing you that's not the case. It may be winter, but light and magic and absolute wild joy are on your way, even now. If you pretend that you still have time to live the way you want to, you'll be surprised to find that suddenly, you really do.
In times of stress, you sometimes find that involving others only makes things worse. Even the people who love you the most are constantly introducing new complications or new sources of anxiety into your life. You can easily retreat to your private space where you can tackle the burden alone, on your own terms. Just don't remove yourself from social life entirely. The people around you can contribute to your stress, but they also have other great things to offer: knowledge, skills, moments of surprising fun. They will make your life better this week, if you allow them.
You feel comfortable adapting to a new environment, happily shrinking or expanding to fit whatever space you find yourself in. It is an enviable skill, one that can create harmony wherever you go. However, this week, remind yourself that you don't need to always in tune with your surroundings. You don't have to change at the same pace as the people you love or force your preferences to match theirs. Let your own interests and passions guide you, even if no one else seems to understand them right now. You don't have to be pushed out of your own way to maintain social unity.
People don't always recognize or appreciate your curiosity, but it's an incredible gift. You are very good at asking questions, gathering information, creating conditions that make people want to talk to you. However, sometimes, you're so good at getting people to share that you forget how to respond. Or you convince yourself that your friends only value you as a good listener, that they don't really care what you have to say. However, it is not true. This week, give yourself permission to talk, tell stories, even wander a bit. People interested in you want to hear it all.
Try to remember that you don't have to do everything the other person asks of you. This may be easy for you to admit, but a lot harder to internalize. Because when you really care about people, you would like to support them, show off, share your resources and energy in any way you can. However, in the end, you find yourself dragged along by the pressures and obligations, your time just spent on tasks and no pleasure at all. This week, you can say no.
Lately, it seems like you're falling behind – like you're moving further and further away from any clarity about yourself, your experiences, and your purpose. It's frustrating to feel like your best efforts are going nowhere. Really, however, you're doing important work right now; you just don't have the distance to yourself to see it. It can take months, even years, no matter how much you've learned or how much good you've done for those around you, but this week, expect some affirmation that no Which of these is useless.
When it comes time to assert a boundary, you sometimes wonder how fair you are living. You know that for the most part, everyone does their best in the face of sadness and pain, and you fear that it makes no sense to add any demands of your own. However, this week, try to stay away from that kind of thinking. Everyone deserves to be treated with respect, and so should you. People have no right to mistreat you just because they're hurting, and there's nothing cruel or unfair about you having to speak up like that.
Usually, when good things happen to you, it's because you moved strategically, carefully laying the groundwork for success. You are not content to leave your future to opportunities or wait for others to suddenly become generous. However, while your deliberate plans are believable, bold and unexpected leaps can produce a different kind of magic. So this week, don't hold yourself too tight to the schedule you've made for yourself. When beautiful opportunities present themselves, sometimes the best course of action is simply to take them.
As you move through the world, you often get the impression that you are just repeating the same lessons over and over, or pondering the same questions, or repeating the same emotions over and over. It's rare to actually settle for anything, to come to a definite conclusion. But this week, you can really get the hang of it, you've finally overcome some of the challenges you've been struggling with. Closing is a feeling that rarely lasts long, but for now, give yourself a moment to appreciate how far you've come.
In public, you're calm and assured, but when you're alone, your confidence can fade. You worry that you won't be able to try hard enough, can never love well enough, can never truly deserve happiness. No matter how irrational you realize these thoughts are, it's still a challenge to free yourself from them. However, this week, you can relax yourself. It's just that tired constantly being held back by your own worst thoughts and it's easier, right now, to realize the truth: that you are brave and principled, that the world is a better place with you in it.
For you, the biggest challenge for you is letting yourself be soft. You realize painfully how self-indulgent feelings can cause and how often they lead to naivety or ignorance or unwillingness to be honest about the state of the world. And you've seen the vulnerability exploited too many times. You won't gain anything from hardening right now, though, so give yourself some time to rest. Gentleness – to others, but above all to yourself – has a lot to teach you, so focus on it.
Recently, you have found it difficult to stick to your plan as written: New opportunities and new roadblocks appear, so you change direction. Don't take this as a sign that your idea is flawed or that you're having a hard time implementing it. All it means is the world is different from before and the transformation is still going on. If you're struggling to plan too far into the future, don't worry now: you're more than capable of rising moment by moment and letting the road ahead reveal itself as you go.
Read weekly horoscope during the week of November 29. Weekly horoscope during the week of December 13 will be online next Sunday.
Get the book by Claire Comstock-Gay, Madame Clairevoyant's Guide to the Stars, out now.
Source link Weekly Horoscope for the week of December 6 according to Cut