WATCH: The end zone fight breaks out in Oregon vs. Oregon State in competitive game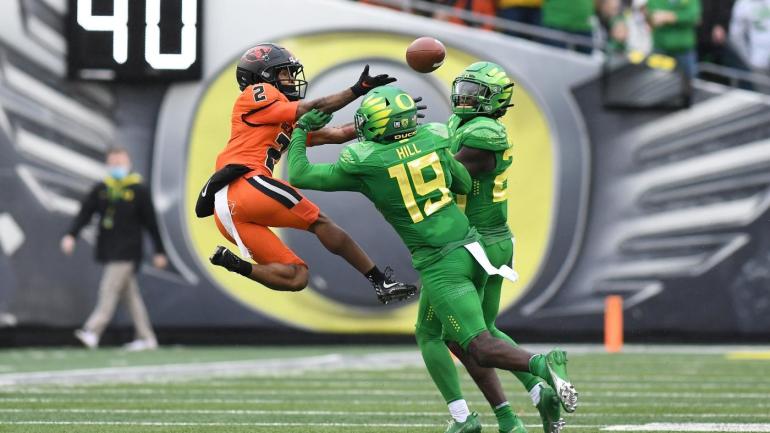 beautiful pictures
Saturday's Rivals Week in College Soccer promises a series of bittersweet games, and the Civil War in Beaver State certainly does. Oregon's game against Oregon State The ending was perhaps the funniest of competitive games on Saturday, complete with a massive brawl as the Ducklings put the stamp on their victory over the Beaver late in the game.
After a late Oregon State clash, a Duck vs Beaver fight broke out leaving both benches cleared and punched. Both teams were penalized for unsportsmanlike conduct and received the entire State of Oregon Tre'Shaun Harrison was disqualified from the game for jumping a player from behind.
The scuffle between the two teams that played out as a Beaver comeback attempt in the second half was ultimately futile. After going 24-3 at the start of the third half, Oregon State was able to take the lead with a scoreline, but the Ducks were still able to take the lead and win 38-29.
Oregon's victory allowed them to win the Pac-12 North Division championship, and they will now play in the Pac-12 Championship Game with Utah Utes.


https://www.cbssports.com/college-football/news/look-end-zone-fight-breaks-out-during-oregon-vs-oregon-state-during-rivalry-game/ WATCH: The end zone fight breaks out in Oregon vs. Oregon State in competitive game