Vikings' Dalvin Cook tore labrum in Week 12 lost to 49ers, indefinitely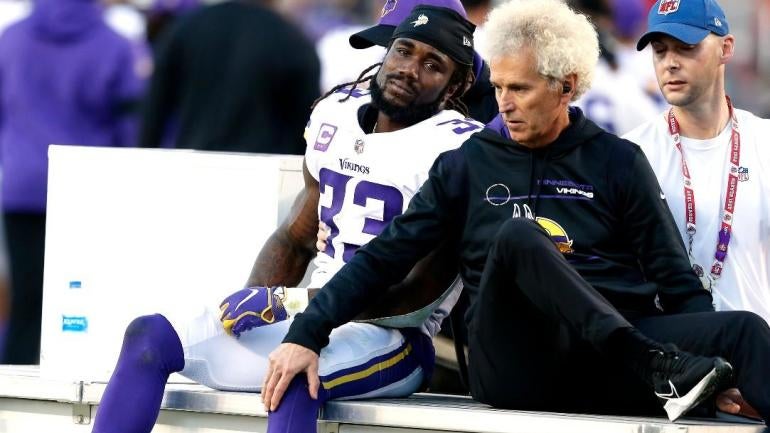 NS Minnesota Vikings There won't be a returning star who is returning to Dalvin Cook for a while, but the team expect him to return sooner rather than later. Cook injured at the end of the third quarter of the Vikings' 34-26 Week 12 loss last San Francisco 49ers and then excluded with what was described as a shoulder injury. Scheduled for an MRI on Monday, the results are now available and it's been determined Cook has a torn lip – CBS Sports NFL insider Jason La Canfora.
Initial reports said Cook had dislocated his joint, but a torn labrum was not something he and the Vikings were unfamiliar with, as the veteran RB missed the final two games of the 2019 season with the same illness. . It is yet to be determined whether the Vikings will place him on the injured bench, which would put him out for at least three games, or if they will just let him rest and recover for a while. Time will see the team play the Detroit Lions and Pittsburgh Steelers over a four-day period, with the hope of possibly having him on December 20 in a game against the Chicago Bears.
It was an emotional scene on Sunday as Cook was ushered into the dressing room, but it looks like the Vikings dodged a worst-case scenario.
In one of his first shots as his teammate led 31-26, Cook was tackled at the bottom of the field and stripped of the ball. On the way down, Cook reached for the upper left side of his chest, seemingly aware of his injury. After a messy recovery, Cook remained on the pitch for several minutes while being looked after by the coaches. Players and coaches from both teams surrounded Cook as he was helped to his feet and placed on a trolley.
He was finally taken off the field with tears in his eyes.
Cook missed two games due to injury earlier this season with an ankle injury, and was replaced in the squad by Alexander Mattison in those competitions. Mattison will probably fill Cook again. In two starts, Mattison made 51 times for 225 yards, 13 more catches for 99 yards and one touchdown.


https://www.cbssports.com/nfl/news/vikings-dalvin-cook-suffers-torn-labrum-in-week-12-loss-to-49ers-out-indefinitely/ Vikings' Dalvin Cook tore labrum in Week 12 lost to 49ers, indefinitely