Vikings' Dalvin Cook injured shoulder in week 12 loss to 49ers, will have MRI on Monday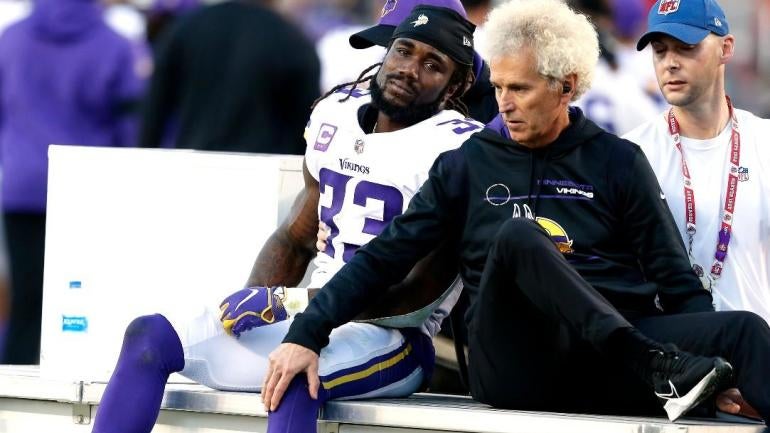 NS Minnesota Vikings may not have their star active again for a while, because Dalvin Cook injured at the end of the third quarter of the previous Vikings 34-26 Week 12 loss San Francisco 49ers. The Vikings officially ruled out Cook for the rest of the match because of a shoulder injury. After the game, the Vikings announced Cook would undergo an MRI scan on Monday to determine the timeframe for his return. NFL Network's Ian Rapoport is Cook reports dislocated.
In one of his first shots as his teammate led 31-26, Cook was tackled at the bottom of the field and stripped of the ball. On the way down, Cook reached for the upper left side of his chest, seemingly aware of his injury. After a messy recovery, Cook remained on the pitch for several minutes while being looked after by the coaches.
Players and coaches from both teams surrounded Cook as he was helped to his feet and placed on a trolley. He was finally taken off the field with tears in his eyes.
Cook missed two games due to injury earlier this season with an ankle injury, and was replaced in the squad by Alexander Mattison in those competitions. Mattison will likely replace Cook again if he has to quit at the end of the year. In two starts, Mattison made 51 times for 225 yards, 13 more catches for 99 yards and one touchdown.


https://www.cbssports.com/nfl/news/vikings-dalvin-cook-injures-shoulder-in-week-12-loss-to-49ers-will-undergo-mri-on-monday/ Vikings' Dalvin Cook injured shoulder in week 12 loss to 49ers, will have MRI on Monday