Ubisoft is bringing NFT to its games, starting with Ghost Recon Breakpoint
Okay, so I don't really know what NFTs are supposed to be, but they're coming to some Ubisoft games, and the first one is Ghost Recon Breakpoint. According to Ubisoft, these NFTs will be able to be considered "unique, collectible, cosmetics in the world". Called Digits, they will launch in beta alongside Tom Clancy's Ghost Recon Breakpoint. You can read Ubisoft's official breakdown of any of the digits below:
"Digit is a new way to experience cosmetic items, combining the fun of playing with AAA quality assets and the thrill of owning NFT represent unique, collectible pieces of the Ubisoft gaming world," explains Ubisoft. "Digits are collectible in-game vehicles, weapons, and devices that provide players with unprecedented ways to connect and enjoy more value from the games they love. ."
The company created a platform for its playable NFTs, called Ubisoft Quartz. It's a mobile app you can use to get Collectible Digits in Ubisoft games.
Huh?
The main attraction of these NFTs, aside from being cosmetics, is the ability to sell them on another market outside of Ubisoft. Each digit will be accompanied by a "certificate of ownership stored on a blockchain," which is a technology that is not part of the company. You will no longer limit yourself to cosmetics as part of a game's inventory and can sell them instead.
"Our long-term efforts have helped us understand how blockchain's decentralized approach can truly make players stakeholders in our game, in a way that's also sustainable for our industry. us, putting back in their hands the value they create through the time they spend," said Nicolas Pouard, Vice President of Ubisoft's Strategic Innovation Lab. "Ubisoft Quartz is the first building block in our ambitious vision of developing a true metaverse. And it couldn't become a reality without overcoming blockchain's initial limitations to the game, including scalability and energy consumption. "
NFTs, or Non-Fungible Tokens, have previously received much criticism for their lack of energy efficiency. This problem is supposed to be solved by Ubisoft's new system.
"Energy saving is an important requirement to propel blockchain technology into a future where it can be widely used by millions of players," said Didier Genevois, director of blockchain engineering at Ubisoft. "We chose Tezos because of its original Proof-of-Stake network and its leadership in NFT."
Players can use Digits after playing Tom Clancy's Ghost Recon Breakpointand after reaching level 5 in the game. This program is only open to players 18 years of age and older. Beta version for this program will start on December 9. Honestly, definitely. You are friends, Ubisoft.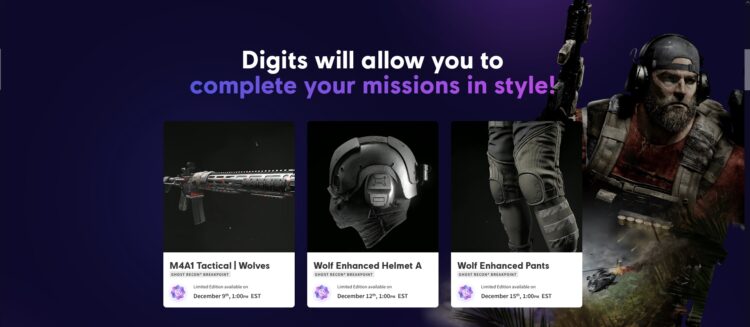 https://www.pcinvasion.com/ubisoft-nfts-ghost-recon-breakpoint/ Ubisoft is bringing NFT to its games, starting with Ghost Recon Breakpoint