Selling Sunset's Christine Quinn on Ciaté London Collab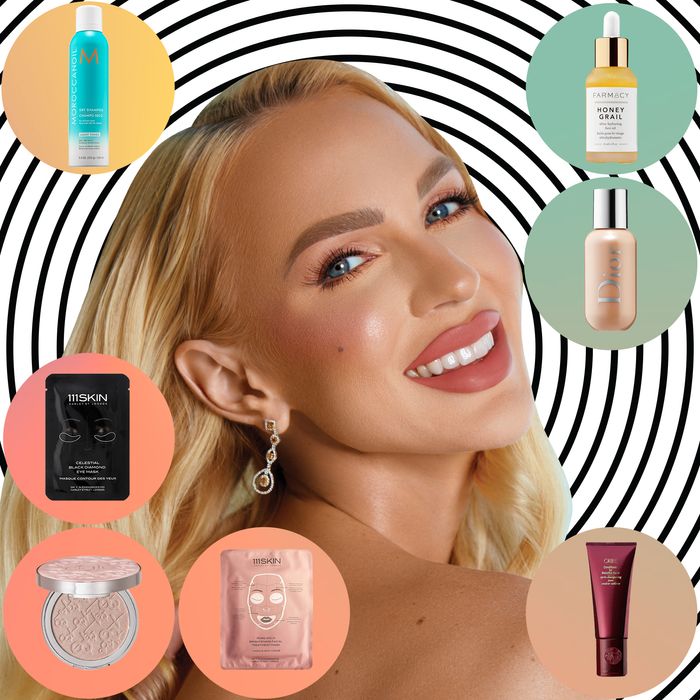 Photo-Illustration: by The Cut; Photo: Courtesy of Ciate London, Retailer
Above Group of beauties, a Facebook community made by Cut and Strategists, people chat all day about the products they love – products so good they'll make you hit that little "auto-recharge" box at checkout. Below, we asked one of our favorite beauticians to share her own picks.
To be Christine Quinn villain of Sunset sale? It's up to you to decide, but the reality TV star certainly knows how to answer the question. Just look at Villain Pump Plump Lip Gloss she created her limited edition capsule with Ciaté London.
"When Charlotte Knight [the founder of Ciaté] put out her hand, she said, 'I love that you have this sweet side, very girly, very girly side, but then you also have that sass side that's a diva and very sexy and all It's about taking risks," Quinn said. So, yes, she created a "Villain" (magenta) lip gloss and two "Drama Queen" lip balms that change color according to the color scheme. weather temperature, but also a highlighter double as one curd powder and a Table of Mau face.
Quinn, whose charming beauty is second only to her witty remarks about press Netflix show, saying that cooperation is a "natural" cooperation as one thinks about Sephora is "a candy store" and is set in a theatre. "I would definitely choose makeup over skincare any day," she said. "Makeup is really where I get creative."
Here, she showed Cut the products she always keeps nearby, including dry shampoo she loves, deodorant she chose in France, and eye mask she always keeps in her purse.
"I am a blonde, and blonde hair is not easy to maintain. It turns into brass quite easily, but this dry shampoo Temporarily get rid of brass tones. My hair also gets oily very quickly. I can wash my hair every other day or every three days, and in between, this not only keeps my hair seeing It's refreshing but it also makes me feel like I just washed my hair. It's the perfect formula. Trust me, I've tried every dry shampoo available from every brand, and this is the one I keep coming back to. "
"I had a moment to consider 'natural product', and this is the line I'm aiming for. When I used Sisley's skin care products, including this mask, for a week, I was shocked at the difference I saw in a short amount of time, which is rare. My skin looks so radiant and feels so refreshed."
"Villain Pump Plump lip gloss has a beautiful red color. It looks darker than in the tube, and it looks different on every skin tone. I'm very fair, so it was a gorgeous pink when I first applied it. You can apply more and increase intensity or apply lipstick underneath. It smooths wrinkles without the really uncomfortable stinging, stinging sensation. It has a bit of mint, which I love, so you feel really fresh when you wear it too."
"I have some Oribe products that I rotate, but I love this one shampoo specifically for color – it's my daily shampoo. It leaves my hair feeling so soft and really, really refreshing. One bottle probably lasts me about a month, just because I have a lot of hair and I wash it twice; I shower, condition my hair, wash my hair, wash off the product, and then I wash it again. "
"Similar to shampoo, this is just a consistently good one air conditioning. The whole brand has this beautiful smell to it. Oribe actually has a scented perfume as well. It is called Côte d'Azur. I have it, and it's a very clean citrus scent. I really like it."
"This could be a man deodorant, but I love it. I got it when I was in France. I was at a department store and I had tried other brand deodorants before, but I was like, 'Oh, I want to try this next.' I'm all about the packaging, and it looks really great. Turns out it has this wonderful cooling effect that stays with you all day. When you're out and about in your sports bra, you'll feel the breeze with this deodorant; you feel very refreshed. "
"You can really change or increase the intensity of this liquid highlighter, you can use it for both face and body. You can use it straight from the bottle or you can add a few drops to your lotion for a natural, supermodel-like glow."
"I love the glow on my legs, on my collarbone and on my shoulders when I'm wearing a dress, and I used to wear Dior foundation. [above] on my body, but then I got tired because my hands were greasy – just transparent – when I applied it. So I said, 'Oh, let me try the lightener on my body.' It's very pigmented, and it stays on my skin all day. It has truly become my favorite in the collection over time because it is so versatile and easy to use. "
"Farmacy has a makeup remover remover which I love; It removes even the most waterproof makeup. But then I also love face oil. I've had a lot of problems with oil before. They have a very superficial feel, and they don't do anything, but this one gives me an amazing glow and really hydrates my skin. "
"I usually don't like mask because they slide down your face and it feels gross. But this brand I love because their masks are so thick and stick to your skin without slipping down. They are really well made and they do dry out so you know when to take them off. In particular, this product really brightens your skin and gives you a beautiful glow. "
https://www.thecut.com/2021/11/selling-sunset-christine-quinn-ciate-london-collab.html Selling Sunset's Christine Quinn on Ciaté London Collab