Prince William sings with Taylor Swift and Jon Bon Jovi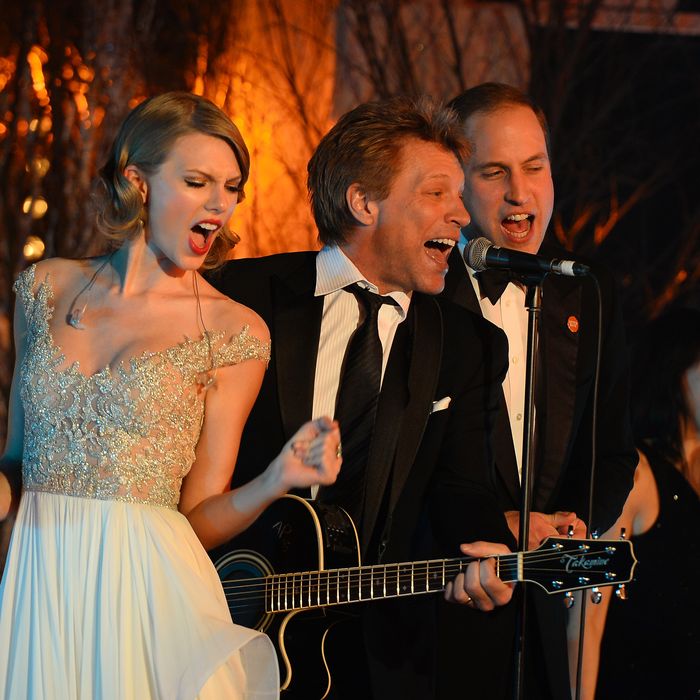 Photo: Ben Pruchnie / Centrepoint / Getty Images
We all have painful moments in our lives, those moments when we look back at the dead of night, the sense of shame still intact. For us scientists, it's the time you called your science teacher mom, or when the chocolate melted in your back pocket in elementary school. But for the royal family it was different. Eg, The moment that haunts Prince William was the time he sang on stage with Taylor Swift and Jon Bon Jovi. (# involve?)
In an interview for the Apple Fitness + . series Time to walk, William recalls the improvisational performance that still made him "cringe". That year is 2013. Taylor Swift has just had a great success with Red, and William just welcomed their first child with Kate Middleton. They sat together at the Winter Whites Ball at Kensington Palace, and somehow both ended up on stage performing "Livin 'on a Prayer" with Jon Bon Jovi himself. Sounds like an unforgettable moment, doesn't it? Mistake. William said: "To this day, I still don't know what happened to me.
According to the Duke of Cambridge, it was Swift who encouraged him to get on stage and sing. "She put her hand on mine, looked me straight in the eye, and said, 'Come on, William. Go and sing," he said. "Honestly, even now I'm cringing on what happened next, and I don't see why I gave in." But as he says, Swift is undeniably. "I walked onto the stage in a trance and then almost halfway through Jon Bon Jovi's 'Livin' on a Prayer', I woke up. I'm thinking to myself, I'm standing on stage singing 'Livin' on a Prayer' when I don't even know the words?"While he was able to finish the rest of the song and make fun of the crowd, he broke a sweat just trying to 'keep himself composing outside,'" he added.
However, Swift tells the story a little differently. "This is my first royal encounter," Swift said in an appearance on The Graham Norton Show in 2014. In her retelling, it was not she who encouraged the Duke, but William, who made her stand on stage with him after Bon Jovi called the royal family, saying he She heard William like to sing this song at karaoke. "Prince William looked at me and said, like, 'I don't remember now,'" Swift recalls. "And he just looked at me and said, 'You have to come with me.'"
So what is the truth? Luckily, we had the tape. In a video uploaded to the Royal Channel on YouTube (which doesn't appear to have any real connection to the royal family, though unclear), Bon Jovi is seen teasing William, call him Karaoke Kid and ask him to come on stage to sing a few lines. After a bit, Swift and William both start on stage midway through the verse and join the chorus.
There was only one logical next step: Bon Jovi had to speak his truth. I will wait.
https://www.thecut.com/2021/12/prince-william-on-singing-with-taylor-swift-and-jon-bon-jovi.html Prince William sings with Taylor Swift and Jon Bon Jovi