Podcast 'Cover Story' enters the world of psychedelic therapy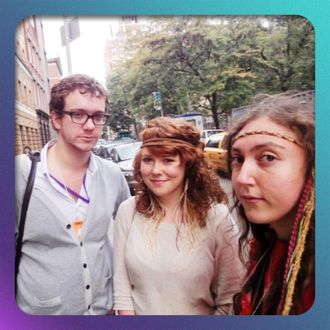 Lily Kay Ross, center, poses with friends.
Photo-Illustration: by The Cut; Photo: Supply
In the first episode of Electric trip, the first season of New York Newspapers new investigative podcast series Cover story, We set out to explore the dark side of psychedelic therapy. After all, we all want relief – and more than ever, we're looking for it in hallucinations.
iO host Tillett Wright: People are passing around the hallucinogenic toad venom as a party gift. Goop is filming a TV about mushroom retreats. Some cities and states have phased out the fungus. Molly was crawling out of clubs and into therapists' offices. If you live in New York City, you've no doubt received an advertisement for a luxury ketamine tour on a velvet couch. And there have been billions of psychedelic startups.
But beyond the mainstream is an underworld rife with abuse, where guides and magicians seek to cure trauma with illegal activities. Their mission is to make psychedelic therapy more widely available to "promote human evolution." Contributor Lily Kay Ross has spent years experimenting with drugs, and at 23, she's taken on that mission on her own and trained to be a "guide," a virtual therapist. underground sense. Now she is ready to talk openly about her experience.
Ross: I used to have such faith in work. Now I want to have an honest conversation because everyone's safety depends on it. I saw a shitshow performance. I see cover-ups. I see the possibility that people can get hurt – and be deeply hurt. I was told that if I told the story of what happened to me, I would single-handedly destroy the psychedelic renaissance.
To hear more about psychedelic therapy and the dangers it poses, listen below and sign up for free on Apple Podcasts or wherever you listen.
Source link Podcast 'Cover Story' enters the world of psychedelic therapy