Patriots' Jakobi Meyers' weather drought hits record-setting in Week 10 win over Browns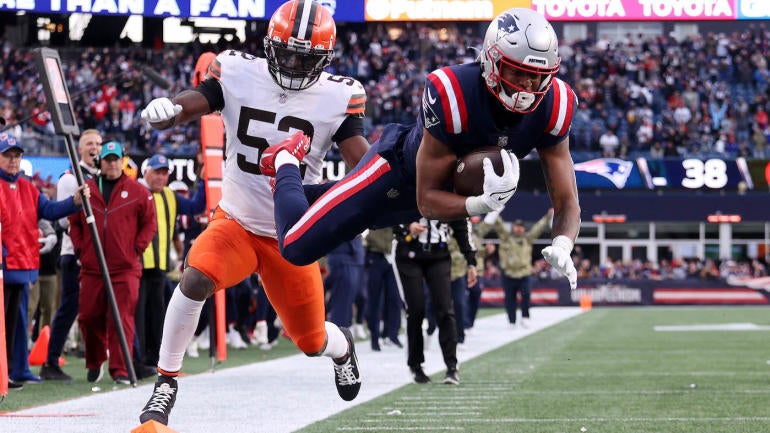 Maddie Meyer / Getty Images
FOXBOROUGH, Mass. – Final, Jakobi Meyers End zone has been found. At 4:13 in the fourth quarter of the 10th week of Sunday, the match between Patriots and Brown, Meyers was able to pull off a side pass at Cleveland's 9-yard line, shake his defender loose and dash into the final area for the first time in his career. That score was the cherry on top of a whole day dominated by New England as they won 45-7.
The Meyers themselves have taken a long time, who is in the midst of a third season with the Patriots. During that time, a received encounter caused him to evade to a historic extent. Entering Week 10, he holds the records for most catches (131) and most yards received (1,511) by a receiver in league history without scoring.
After scoring and finally getting over the hump, the Meyers were basically met by the entire Patriots sideline, who rushed into the end area to celebrate with him.
"Just the fact that people celebrated with me and it finally happened, it's a moment I'll probably keep forever," Meyers said. "The fact that everyone was celebrating with me means more than the confrontation. I feel it says a lot about your teammates… I know they've been waiting for it."
"I didn't know it would come from Hoyer," Mac Jones joked about Meyers' grounding game, noting that it was the back-up quarterback Brian Hoyer who actually threw it at him when he relieved him at the end of the second half.
"It's great," Jones continued. "I'm super excited. We went out together and the ball – I was so interested in the ball. I thought, 'we have to find the ball." I guess they found it. That's good. But I think Jakobi is a great teammate and he's a great team player and it's well deserved and he'll get more. From here, hopefully we can just stack them up and have a bunch. "
Meyers ended his day catching all four of his goals in 49 yards along with that all-important touchdown.


https://www.cbssports.com/nfl/news/patriots-jakobi-meyers-snaps-record-setting-touchdown-drought-in-week-10-win-over-browns/ | Patriots' Jakobi Meyers' weather drought hits record-setting in Week 10 win over Browns