Oklahoma State coach Mike Gundy doubts Bedlam's rivalry will continue as Sooners leave for SEC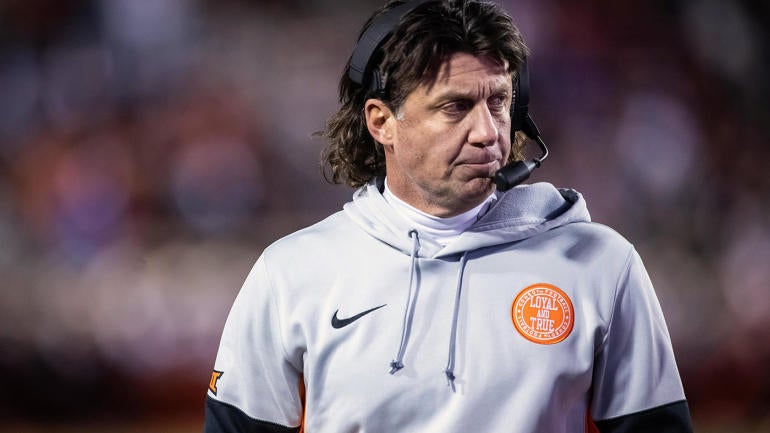 USATSI
Number 9 Oklahoma State will hold number 13 Oklahoma in Stillwater on Saturday for the 116th in a very big game not only for the Big 12 Championship Game race, but also College football The knockout round. Enjoy it, because the competition called "Bedlam" may not be an annual game in the future.
Oklahoma is officially set to join the SEC in 2025, but it is possible (if unlikely) that the start date will be moved up, perhaps as early as next year. Oklahoma and Oklahoma State will then be in two different conventions, and Cowboys coach Mike Gundy doesn't think the rivalry will continue once the Sooners head into the southeast.
"I don't think it will (continue)," Gundy said, according to The World of Tulsa. "I just don't think there's a business side to it. I didn't make that decision. I guess [school president] NS. [Kayse] Shrum and [athletic director] Chad Weiberg – they can do whatever they want. Or board. I don't know anyone involved in this.
"I don't think that's a realistic thing that will happen based on the business side of Power 5 conference football," Gundy said. "That's just my opinion."
However, there is still a glimmer of hope. The SEC has an eight-game conference schedule and requires each school to play one non-Power Five competitor each season. Four schools – South Carolina, Florida, Georgia and Kentucky – have non-conference games built into their schedules against in-state competitors from the ACC.
It is unclear how the SEC and Big 12 will structure their scheduling requirements once all the dominoes reorder have fallen.
In the meantime, the Sooners and Cowboys will meet on Saturday as loser-to-lose teams who are hanging around the periphery of the playoff race. If Oklahoma wins, the two teams will meet next week for the Big 12 in Arlington, Texas. If Oklahoma loses to Oklahoma State and Baylor falls to Texas Tech, it will also force a rematch with Bedlam in Arlington.


https://www.cbssports.com/college-football/news/oklahoma-state-coach-mike-gundy-doubtful-bedlam-rivalry-will-continue-with-sooners-leaving-for-sec/ Oklahoma State coach Mike Gundy doubts Bedlam's rivalry will continue as Sooners leave for SEC