No, Aaron Rodgers has no COVID-Toe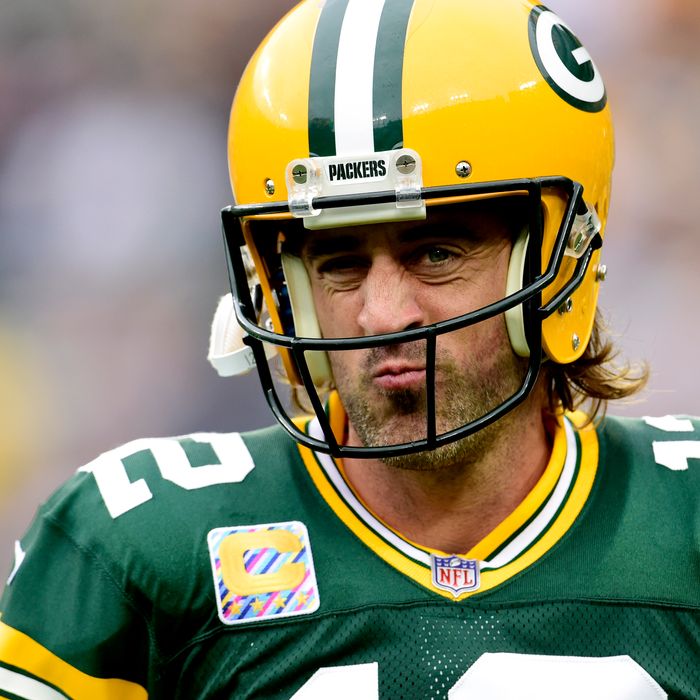 Photo: Patrick McDermott / Getty Images
If you have podophobia, come back now, because, unfortunately, we have to discuss Aaron Rodgers' Toe. Rodgers, celebrity Unvaccinated Green Bay Packer quarterback, has officially returned to the NFL after testing positive for COVID-19, and on Sunday he was listed as having a toe injury. But it may not be what you think.
Contrary to popular belief, Aaron Rodgers has no COVID toes. Last year, lesions on the toes, known as pernio or chilblains, were a symptom associated with the virus – hence Nicknamed "COVID toes" – and is thought to be a sign of an infection. So on Tuesday, November 23, when Rodgers appeared on The Pat McAfee Program to discuss his COVID-19 experience and say he "didn't have any lingering effects other than COVID toes," people took it seriously. But now, one The Wall Street Journal article and a lot of talk afterwards, Rodgers is clarifying the condition of his toe, saying it was just a joke.
"I can't believe I have to go on the air and talk about my medical information," he said at Wednesday's press conference, a day after speaking about his medical credentials on Facebook. The Pat McAfee Program. During the press conference, Rodgers showed his bare foot in front of the camera to prove he didn't have any injuries and explained that his injury was actually a broken toe. "It's just a classic case of misinformation," he said, before turning on The Wall Street Journal. "The surprising thing comes from what used to be a prestigious journalism organization."
Rodgers also said that he expected an apology from "Knight Molly and any of her editors." One problem: Molly Knight doesn't work for The Wall Street Journal, she also does not write articles. Just hours after Rodgers' press conference, Knight was on Twitter immediately set a record and asked people to "stop all this hate."
"I don't understand why Aaron Rodgers said my name in a press conference. I'm just finding out now because it's completely insane," she wrote in a follow-up tweet. "I retweeted WSJ articles and then go shoot a classroom and feed the homeless." She also asked Rodgers fans to stop "harassing" her.
Rodgers has yet to comment on this small misinformation, but he has changed his Twitter profile photo to a close-up of his toes.


https://www.thecut.com/2021/11/no-aaron-rodgers-doesnt-have-covid-toe.html No, Aaron Rodgers has no COVID-Toe