NFL Week 13 Power Rankings: All seems right as Packers, Buccaneers, Chiefs and Bills earn spots in Top 10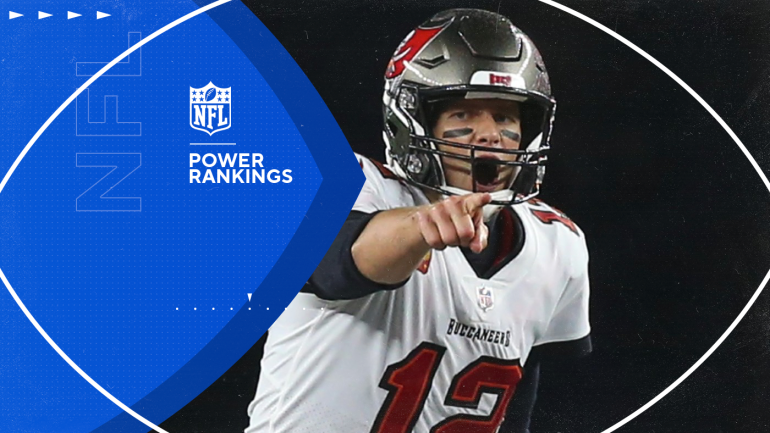 It's almost December, which means the playoff picture will crystallize in the next four Sundays, even with an extra game this year.
So as we ready for the best month of the season, it's obvious that certain teams are surging and ready to solidify their playoff position and maybe even the top seeds. 
Those teams are the usual suspects, teams we expected to be there in the end when predictions were made in September. 
The Green Bay Packers, Tampa Bay Buccaneers, Kansas City Chiefs and Buffalo Bills all played in conference championship games last season. They've all had issues at times this season, but as we head to the homestretch they are all back in the top-10 of my Power Rankings.
All seems normal again.
The Packers are coming off an impressive home victory over the Los Angeles Rams, the Bucs won at Indianapolis and the Bills won at New Orleans in dominant fashion on Thanksgiving night. The Chiefs were off, but they've won three straight to right things.
That doesn't mean there aren't some surprises as we head to the final six weeks. The Arizona Cardinals are still in the top spot, the New England Patriots are at No. 4 and the Cincinnati Bengals are at No. 10. 
We have several teams just outside the top-10 who are playing good football, a team like the San Francisco 49ers, who have won three straight. The Miami Dolphins had an undefeated November to get to 5-7 with a soft schedule coming up.
For the most part, the elites are getting back to being elite, even dealing with some off performances at times by their stars, which led some to question whether they were really as good as expected.
The Packers, Bucs, Chiefs and Bills will be around in the end. Count on it. 
It's who will join them that makes things interesting down the stretch.
Biggest Movers
| Rk | Teams |   | Chg | Rcrd |
| --- | --- | --- | --- | --- |
| 1 | Cardinals | They come off their bye as the top team in the league heading to December. The good news is they are getting healthy for that stretch run. | — | 9-2-0 |
| 2 | Packers | Beating the Rams the way they did shows they are one of the league's best. That game wasn't as close as the score indicates. Matt LaFleur is doing a heck of a job. | 1 | 9-3-0 |
| 3 | Buccaneers | Winning on the road against the Colts is big, but they still have major issues on defense. They have to be remedied in December. | 2 | 8-3-0 |
| 4 | Patriots | It was Mac Jones, not the running game, that keyed the victory over the Titans. That's big going forward. | 3 | 8-4-0 |
| 5 | Chiefs | They come off their bye as the team in the AFC that nobody wants to play. The defense is getting things turned around. They have a big division game with Denver this week. | 3 | 7-4-0 |
| 6 | Bills | What we saw against the Saints was the offense getting back on track, in large part because they were patient. That was a smart decision by Josh Allen. | 5 | 7-4-0 |
| 7 | Rams | They sure don't look like the Super Bowl team everybody expected to see. Matt Stafford is really struggling, but they get the Jaguars this week as their tonic. | 5 | 7-4-0 |
| 8 | Ravens | They aren't playing great football, but they would be the top seed in the AFC right now. The offense has to be better than it was against the Browns. | 2 | 8-3-0 |
| 9 | Titans | They were just too undermanned against the Patriots. The injuries are killing this team, but they still have a cushion in the division. | 5 | 8-4-0 |
| 10 | Bengals | Two impressive victories in a row has the Bengals back on track. They are young and growing in confidence, which could be problematic for the rest of the division. | 3 | 7-4-0 |
| 11 | 49ers | They are surging heading into December and have the look of a playoff team. They ran it right at the Vikings last week, which is their ideal way of winning. | 6 | 6-5-0 |
| 12 | Raiders | They saved their season in a way by winning at Dallas. Derek Carr was outstanding in getting that overtime victory. | 10 | 6-5-0 |
| 13 | Cowboys | They have lost three of four games and suddenly that Super look is gone. The defense was bad against the Raiders and now must turn it around on the road. | 1 | 7-4-0 |
| 14 | Broncos | At 6-5, they are in the playoff hunt. The defense was outstanding against Justin Herbert. That unit could carry them to the playoffs, but they face a tough one against the Chiefs this week. | 10 | 6-5-0 |
| 15 | Chargers | They looked awful on offense for most of the game against the Broncos. Their system is hurting Justin Herbert. Set him free. | 6 | 6-5-0 |
| 16 | Colts | They had a real chance to get back into the division race, but couldn't pull it out against the Bucs. Carson Wentz did play well, which is a good sign. | 6 | 6-6-0 |
| 17 | Steelers | That was an embarrassment against the Bengals. The offense was awful and they are in big trouble in the playoff race. | 3 | 5-5-1 |
| 18 | Dolphins | With four straight victories, the Dolphins are in the playoff hunt. The defense has improved, while Tua Tagovailoa is playing good football. | 5 | 5-7-0 |
| 19 | Browns | If the playoffs started today, they would be home watching. The passing game is just too limited right now. | 4 | 6-6-0 |
| 20 | Vikings | When Kirk Cousins needed to make plays against the 49ers, he couldn't make them. Now they can't afford anymore losses. | 4 | 5-6-0 |
| 21 | Eagles | The resurgence of the offense came to a halt against the Giants. Jalen Hurts really struggled. | 3 | 5-7-0 |
| 22 | Saints | Their season has gone bad in a big way. They just can't do enough on offense to compete. It looks like it could be Taysom Hill at quarterback this week. | 3 | 5-6-0 |
| 23 | Football Team | They have won three straight to get back into the playoff race. The defense has really picked it up the past three weeks. They would be in if the playoffs started today. | 3 | 5-6-0 |
| 24 | Panthers | It's obvious that Cam Newton isn't rescuing this team or getting them to the playoffs. He's struggling and now won't have Christian McCaffrey the rest of the way. | 3 | 5-7-0 |
| 25 | Seahawks | They are done. This season is over. They can't make the playoffs, which begs the question about what changes are coming. | — | 3-8-0 |
| 26 | Falcons | At 5-6, they are still alive, but do we really think they are good? We will know for sure when they play the Bucs this week. | — | 5-6-0 |
| 27 | Giants | Firing Jason Garrett jump-started the defense, which played well against the Eagles. The offense still isn't doing much. | — | 4-7-0 |
| 28 | Jets | Winning with Zach Wilson as the starter is a good thing for the future. It's all about him the rest of the way. | 3 | 3-8-0 |
| 29 | Bears | Andy Dalton looked good in leading them to a victory, but the wise move would be to go back to Justin Fields. He is the future. | 1 | 4-7-0 |
| 30 | Texans | So much for the idea that they could string together a few victories. The offense just isn't that good. | 1 | 2-9-0 |
| 31 | Jaguars | They have to get faster at receiver. Not scaring anybody really limits the offense and Trevor Lawrence. | 1 | 2-9-0 |
| 32 | Lions | They have known a lot of heartache this season, but that's what happens to bad teams. The offense is limited. | — | 0-10-1 |
https://www.cbssports.com/nfl/news/nfl-week-13-power-rankings-all-seems-right-as-packers-buccaneers-chiefs-and-bills-earn-spots-in-top-10/ NFL Week 13 Power Rankings: All seems right as Packers, Buccaneers, Chiefs and Bills earn spots in Top 10