MLB Commissioner Rob Manfred strongly suggests that owners will lock players this season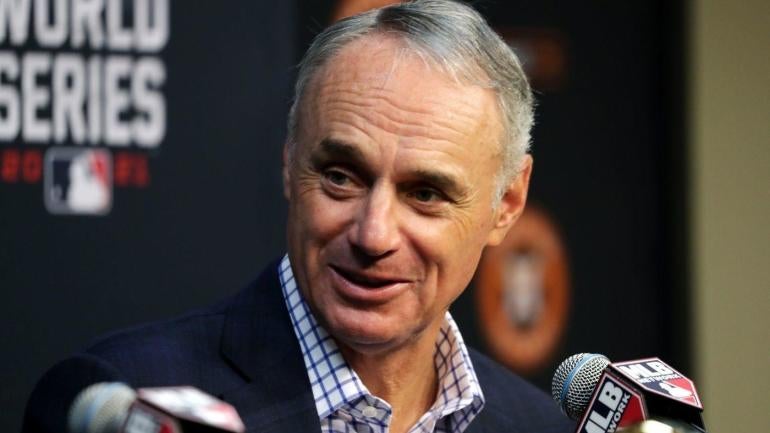 beautiful pictures
MLB players and team owners are deeply engaged in negotiations over a collective labor agreement (CBA), and For a while, it was expected that the owner would lock the player if the new CBA is not negotiated by the time the current CBA expires on December 1st.
On Thursday, Commissioner Rob Manfred seemed to have cleared the deck for such a drastic move in his remarks at the end of the Chicago owners' quarterly meeting. Here's what Manfred has to say about the possibility of an owner lockout in early December, which will freeze all transactions, including free agent trading and signing:
A strike is actually a labor stoppage on the part of the owner (a strike is a labor strike on the part of the player). Since a potential strike will have the highest leverage during or much closer to a regular season start, locking in owners early is essentially a preemptive measure to add an extra layer. pressure on the union. A strike that doesn't need to last – some stoppages throughout MLB-MLBPA history only lasts a few days – but if it lasts long enough, it could change the season schedule.
Manfred also said the focus remains on agreeing to a new CBA, which is the negotiated agreement governing all aspects of the player-team working relationship, ahead of the December 1 deadline, and that can still happen. However, the number of key gameplay issues and the seeming distance between the two sides make that particularly burdensome.
From a player's perspective, they probably want to address a shrinking league earnings ratio (partly due to a drop in average player salaries), the occasional practice of manipulating service time ( i.e. when teams hold back their apparent willingness to delay their free agency and arbitration status for a year), and the "tank" issue, among other issues. Owners, in the meantime, will likely seek to restore the status quo in whatever form the next CBA does.
There's nothing particularly surprising about Manfred offering some preliminary justification for the lockdown, but he's done it very well in line with what has long been suspected.


https://www.cbssports.com/mlb/news/mlb-commissioner-rob-manfred-strongly-hints-that-owners-will-lock-out-players-this-offseason/ MLB Commissioner Rob Manfred strongly suggests that owners will lock players this season