Mike Evans returns to Buccaneers training; Bruce Arians hopes Antonio Brown can play Week 13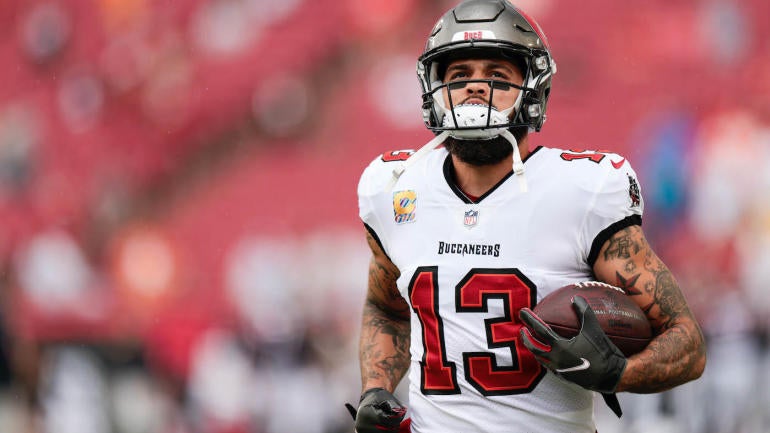 Douglas P. DeFelice / Getty Images
NS Tampa Bay Buccaneers may soon have their spacious studio for the first time in a while.
Tampa has Mike Evans back on practice friday, based on Athletic's Greg Auman, after expanding the star has sit out both Wednesday and Thursday practice with a back problem. Auman noted that Evans' back was tight during last Monday night's win New York Giantsand the fact that he is ready for practice on Friday is a good sign for the possibility that he can play on Sunday with Indianapolis Colts.
Expanding colleagues Chris Godwin, who was capped for much of last week, upgraded his status to full participant on Thursday – a day earlier than he had been upgraded a week earlier. It's a good sign that he's also getting over the leg injury that once plagued him.
Also on Friday, head coach Bruce Arians said that he hopes the team can get Antonio Brown back on the field for the Week 13 game. Brown has been sidelined since Week 6 with a lingering ankle injury.
"He moves around a lot better," said Arians, according to Tom Pelissero of the NFL Network. "He could put more weight on his heel and hit it lightly. We had our fingers crossed."
Rob Gronkowski also returned to the lineup recently, giving the Bucs three of their top four catchers on the field in the win over New York. When Brown was back in the fold, brave cat will once again have a full complement of additional weapons at its disposal, and the Bucs will return to being one of the league's most explosive and effective criminals on a more consistent basis.


https://www.cbssports.com/nfl/news/mike-evans-returns-to-buccaneers-practice-bruce-arians-hopeful-antonio-brown-can-play-week-13/ Mike Evans returns to Buccaneers training; Bruce Arians hopes Antonio Brown can play Week 13