Ligue 1: Lionel Messi and Kylian Mbappe's double action at PSG shows no sign of life in Nice draw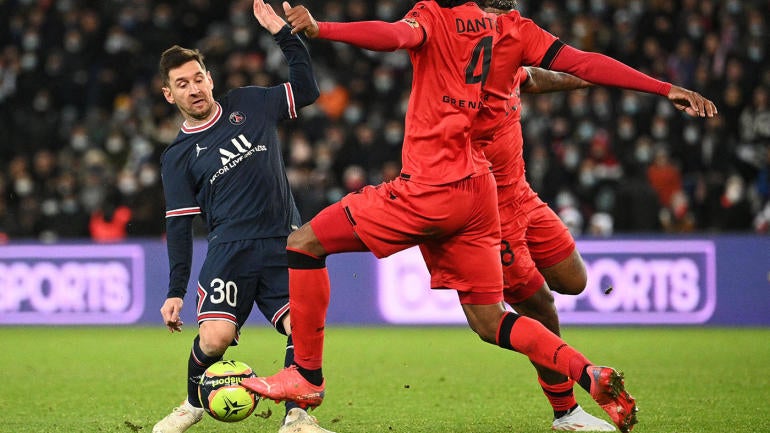 beautiful pictures
Paris Saint-Germain and OGC Nice drew 0-0 as Mauricio Pochettino's men again fell to Parc des Princes on Wednesday in Ligue 1.
The French giants may feel comfortable at the Championnat summit, but it was a poor performance in front of goal that reflected the urgency of the hosts.
Mbappe looked disinterested and missed his best chance offered by seven-time Ballon d'Or winner Messi while the South American was once again underperforming in front of goal.
Neymar's absence is said to make things simpler in the future but it remains equally disgruntled regardless of who pulls the trigger.
Nice came closest to breaking the deadlock when Kasper Dolberg somehow hit the post instead of owning an own goal in a shot for Les Parisiens.
Gianluigi Donnrumma also had to be vigilant on many occasions to ensure that Christophe Galtier's men did not find a way through.
In the end it made little difference at the Ligue 1 summit with PSG still evident in double figures but disappointing reality as Messi paired with Mbappe and/or Neymar is becoming increasingly tedious. over by the match.
Even with Angel Di Maria added to the mix, barely any fluency took place and Marco Verratti's second-half intro failed to spark any life.
Not since the start of 2017, PSG have held a goalless draw at the Parc des Princes in Ligue 1 but it is this midweek fare to the disappointment of the home fans.
Based on their performances so far this season, Messi, Mbappe and Neymar, assuming this is their only season playing together, have been huge disappointments.
https://www.cbssports.com/soccer/news/ligue-1-lionel-messi-and-kylian-mbappes-psg-double-act-shows-no-signs-of-life-in-tame-nice-draw/ Ligue 1: Lionel Messi and Kylian Mbappe's double action at PSG shows no sign of life in Nice draw