Ikai Preview – Wandering After Darkness
There are many Japanese horror games that successfully make use of the country's rich history and folklore. Japanese companies are often behind those games, but that's not the case for Ikai, one Horror puzzles coming soon made by an independent spanish developer. I got to play the game's prologue before its release in March and, despite its aesthetic and downbeat atmosphere, the game seems set to fall into some rather unfortunate genre traps. , which makes me a bit wary of its upcoming release . The prologue is also a pretty big build, and it took me about 80 minutes to complete.
The story concerns a feudal Japanese temple. The head priest briefly left the temple under the care of his niece, Naoko, a shrine maiden, while he went to investigate the mysteries surrounding the summoning of a demon. The game begins with a flashback of Naoko as a child playing hide and seek with another child before being captured in the present day. We do some scanning, as well as practicing calligraphy on the talismans. You really have to do a good job drawing kanji on the talismans in Ikaior the game will force you to start over. However, after batch changing the default drawing sensitivity, I was able to draw the kanji correctly.
At this point, Naoko told me that I should go do the laundry. Speak out, Ikai seems to be quite fond of the design philosophy that players should learn as they go, which is a nice way of saying it takes you into a temple you've never been to and then tells you to go to a room you haven't have come before. Because there was no map, I had to wander around until I found what looked like a restroom.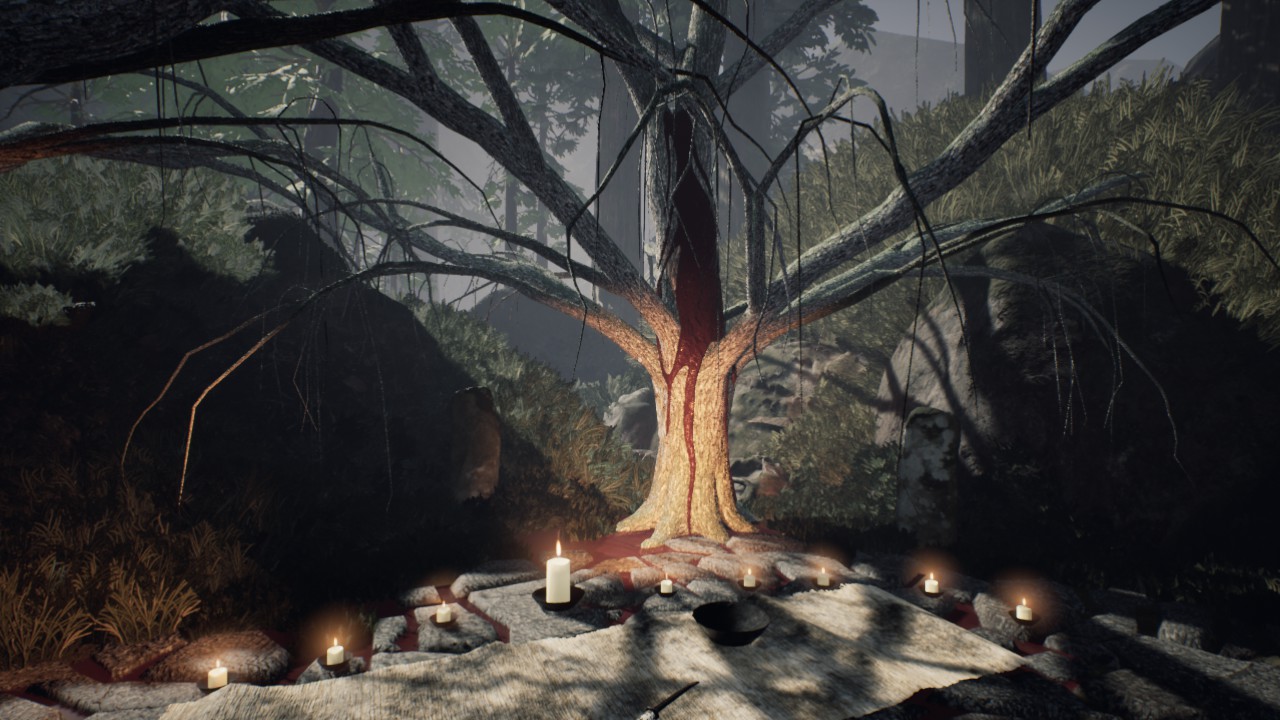 Where do you go?
When I located the laundry, Naoko informed me that I needed to wash it in the river. I wandered for a bit more until I found the gate leading to the outside of the temple. Unfortunately, the gate was locked by a surprisingly complex puzzle that required me to move the bricks to open the door. It makes absolutely no sense for someone to lock a gate with such a thing. Once opened, the path leading to the river greeted me immediately. Ikai there's a pretty high level of detail for a fully 3D indie game, and it offers a significant amount of space.
As I walked through this area, I felt some horrible vibrations. There are illustrated pieces of paper that can teach you about different types of Yokai, very neatly. Naoko offers clues as to the way forward, but these clues are hinted at using language that is often unclear. They made me ignore her and just wander around until I found something that seemed appropriate. Finally, I arrived at a bleeding tree with some kind of ritual prepared around it. But Naoko said nothing and I couldn't see anything to interact with, so I guessed I had come to the wrong place and continued to wander, looking for anything to interact with, as Naoko repeated the phrases. useless suggestion word as before.
When I realized I was getting nowhere, I returned to the ritual point, only to realize that there was a small knife that I could interact with. I thought I was supposed to be washing clothes by the river? After interacting with the knife, a small scene will take place. It's night time, and the masked creature randomly starts to fall in front of me. Ikai definitely scary and I think the production values ​​go a long way to making it more appealing.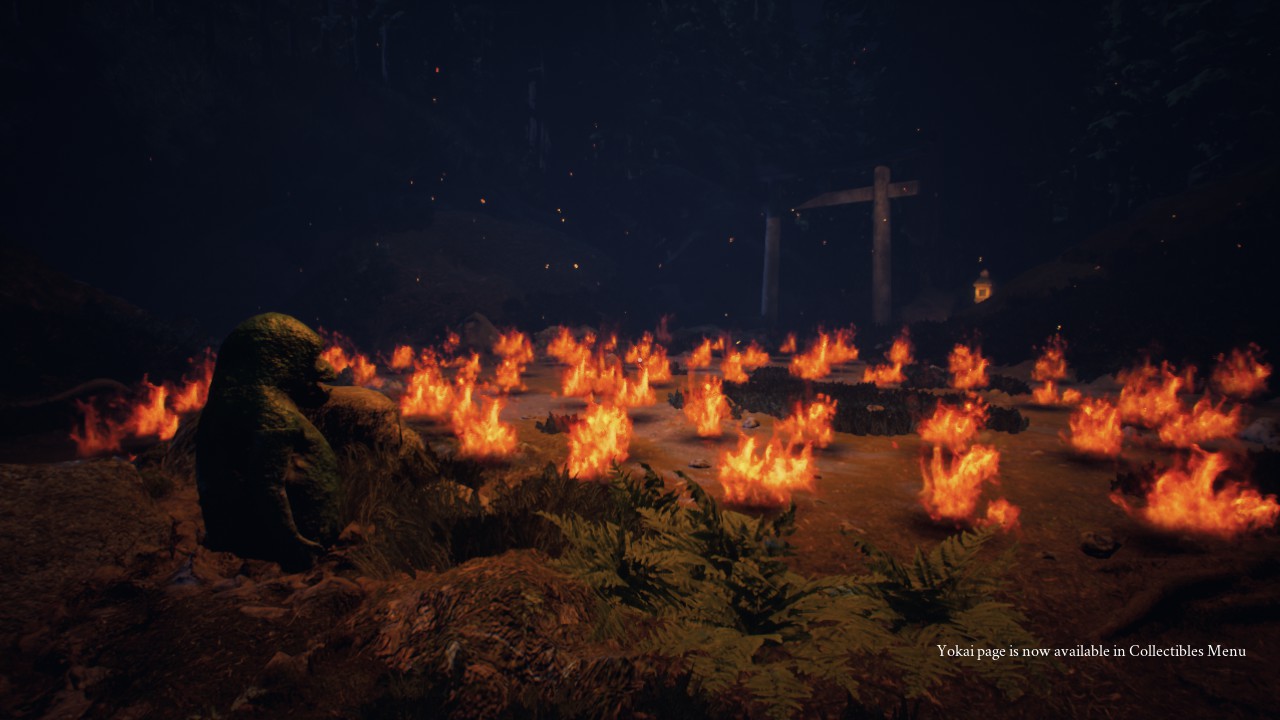 Fire in the night
After failing to wash her clothes in time due to her random knife action, Naoko had to walk back to the shrine in the dark. Immediately after starting, random fires appeared on the ground ahead, disappearing in an instant, reappearing. In this part, I move forward, taking care to avoid the flames as I approach the torii stone that leads to the shrine. There are two of these, and both are trial and error. If Naoko touches the fire, she will die instantly.
When I get over this, I go back to the temple. Naoko said that there must be a cursed item (pretty specific guess, but that's okay), so I then wandered around until I found the right place. Naoko's suggestions made me understand that she needed to pray for some reason, and that a sign would help me. I found the sign, but it's in Japanese and I can't read it. After randomly picking up some coins and dropping them in random places, I threw one into a box near the sign. Then I rang the bell. At this point, the last sign had a prompt telling me that all a prayer was needed was to offer a coin and ring a bell. Thanks. That is very helpful.
Of course, now I again don't know what to do. "Something fell out of the bell," Naoko said, because it wasn't entirely clear that something fell out of the bell. There's a key on the ground that I need to use to find the cursed item. I would never have seen it if I hadn't been told it was there, which is why that dialogue was included. As for finding the cursed item, that of course meant opening a bunch of drawers at random. I finally found it and Naoko told me to seal it. But that means I need to find the writing room again.
Calligrapher
Also, now there's a monster hunting me. I'm not sure who it was or what, but it was there. Strangely enough, I found myself walking right on top of the monster and it didn't even realize I was there. However, when I find the writing room, if I don't draw the kanji on the talisman fast enough, the monster will kill me. I had to find a "safe place" in another room, and the place I chose was no safer than the desk in the writing room. Once I tried and fixed the error my way, I was able to return the item. Only now I have to sneak while in the room! Walking upright got me killed instantly. Incredible!
I put the talisman over the mask and sealed its evil, only for Naoko to realize that she heard chanting from downstairs. This leads me down the hallway with my arm sticking out of the door that needs to be bent. Once in the right room, a scene plays out and then I have to run away from a monster. If I didn't do it right quickly, the monster would have killed me. This is a problem because this part is so dark I can hardly see anything. It turned out that I had to move a stool I couldn't see, in front of a torn paper door. I've probably died a dozen times just because I didn't understand what to do.
Finally, I reached a room that Naoko insisted was safe, at which point I drew another talisman and placed it on the door. I then had to solve a puzzle that focused on meticulously examining all the items in the room for ten minutes before using the information to open the lock and fall into the crawl space.
That's where the prologue ends, bringing me back to the menu. I love first-person horror games, but I do not tend to care a lot about trial-and-error gameplay or wander aimlessly all the time. Based on the opening, I'm not sure Ikai, although has some interesting content, quite for me.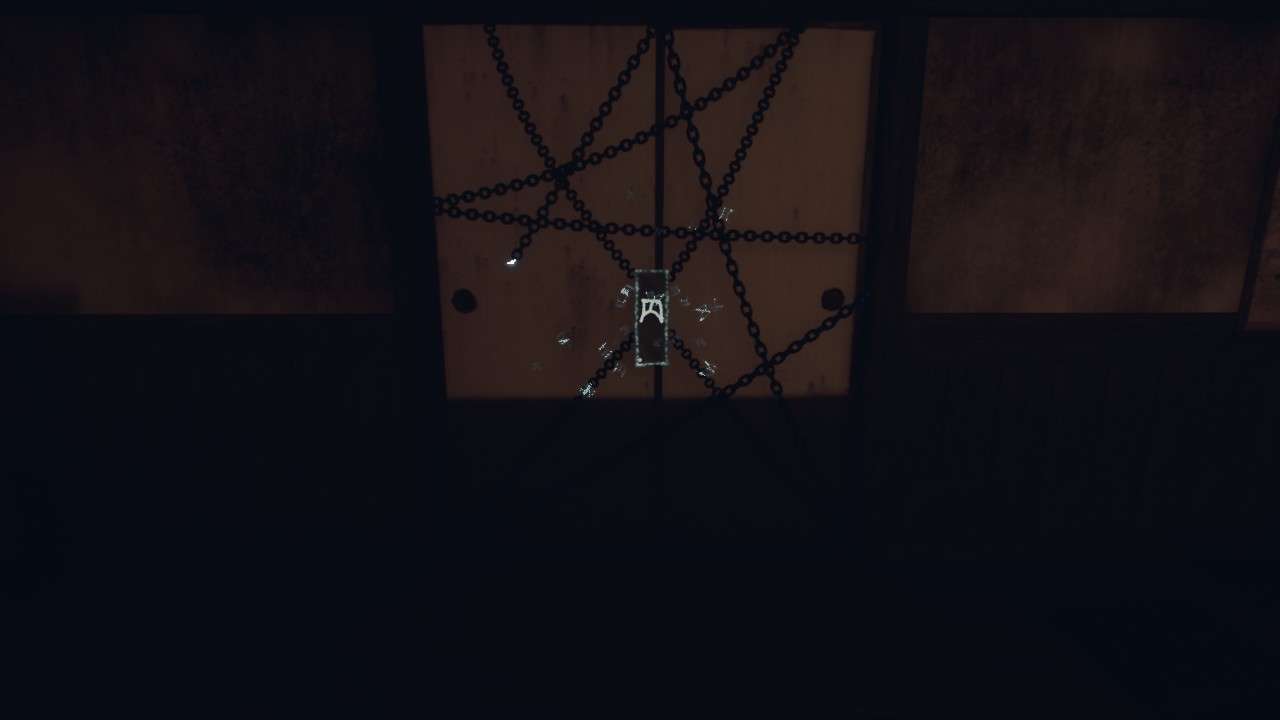 https://www.pcinvasion.com/ikai-preview/ Ikai Preview – Wandering After Darkness