Games
How to enter the flying air shop in Skyward Sword HD
In Skyward Sword HD, there's a flying store that you just aren't really instructed about. No, we're not speaking concerning the Bazaar. There you will get shields mounted, or purchase potions. However the very best store to purchase from early on is Beedle's flying store. Oh, and that's not only a title, it's really flying.
In Beedle's store you should purchase a web and an journey pouch improve. Each of those are important upgrades at first of the sport. The latter allows you to maintain extra gadgets, for instance. Nevertheless, one of many issues about Skyward Sword HD is that it has a much less hand-holding opening. This implies much less tutorials and extra enjoyable, and that's nice. However it additionally means you're extra free to seek out your personal method, a-la Breath of the Wild.
When can I discover Beedle's flying store in Skyward Sword HD?
First up, don't go on the lookout for Beedle's store at first of the sport. You may discover bugs and have a pockets filled with rupees, however you'll be able to't even encounter Beedle's store till you've bought the slingshot.
The place do I discover the slingshot, then?
Put merely, you can't miss it. It's a part of an early story mission in Faron Woods. You'll encounter a small scared Kikwi, and also you'll befriend him by chasing and discovering him. After this you'll come throughout the Tribe Elder, Bucha, who will process you with discovering his different misplaced Kikwis.
Merely discover them and he'll reward you with the slingshot for a job nicely completed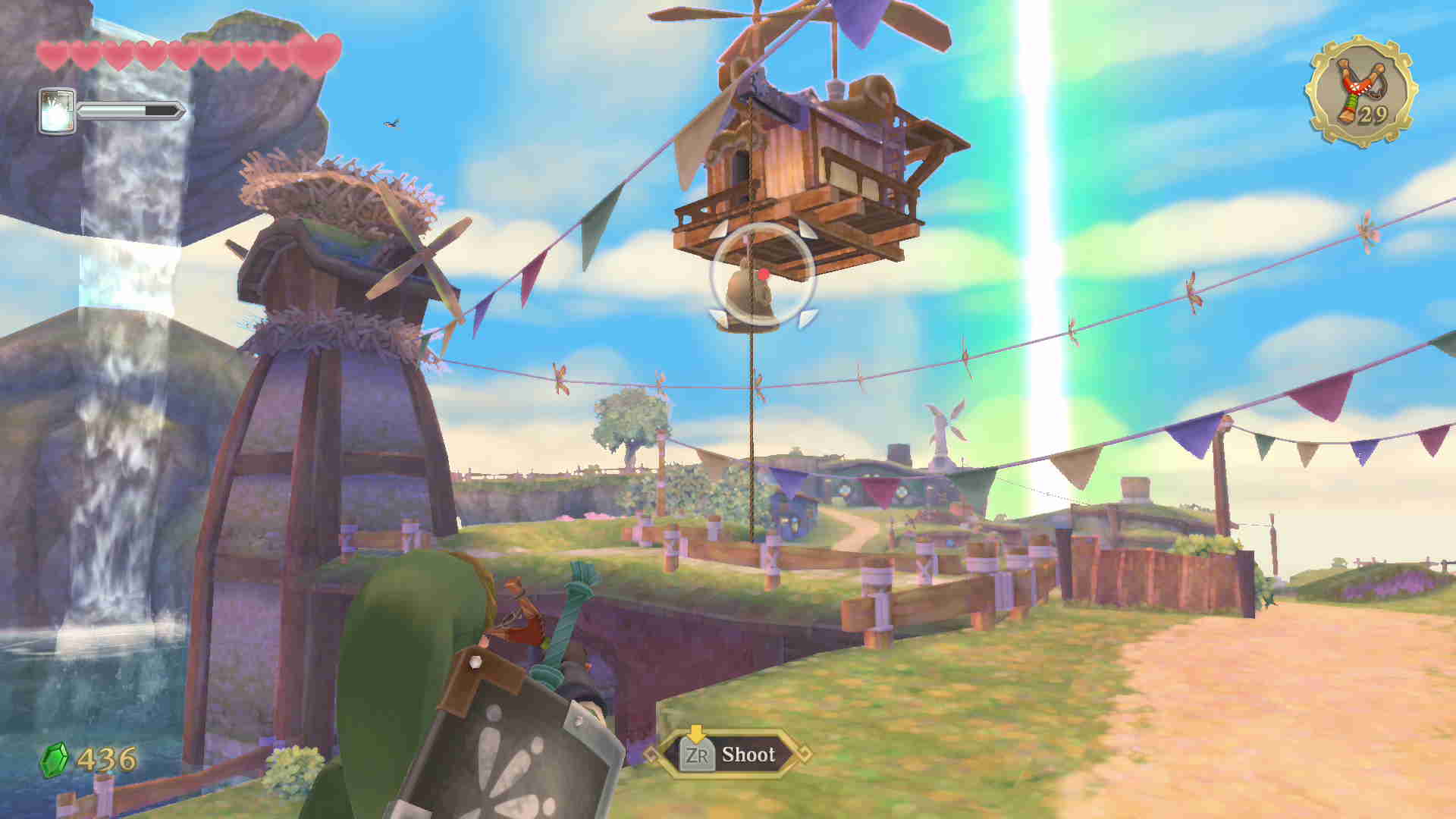 Now what? The place is the flying store in Skyward Sword HD?
The most effective factor to do now could be proceed your journey. Undergo Faron Woods and discover the dungeon. Inside you'll get one other particular device that may show you how to discover gadgets on the earth. End up this space and also you'll naturally be instructed to return to the Sky, or somewhat, Skyloft.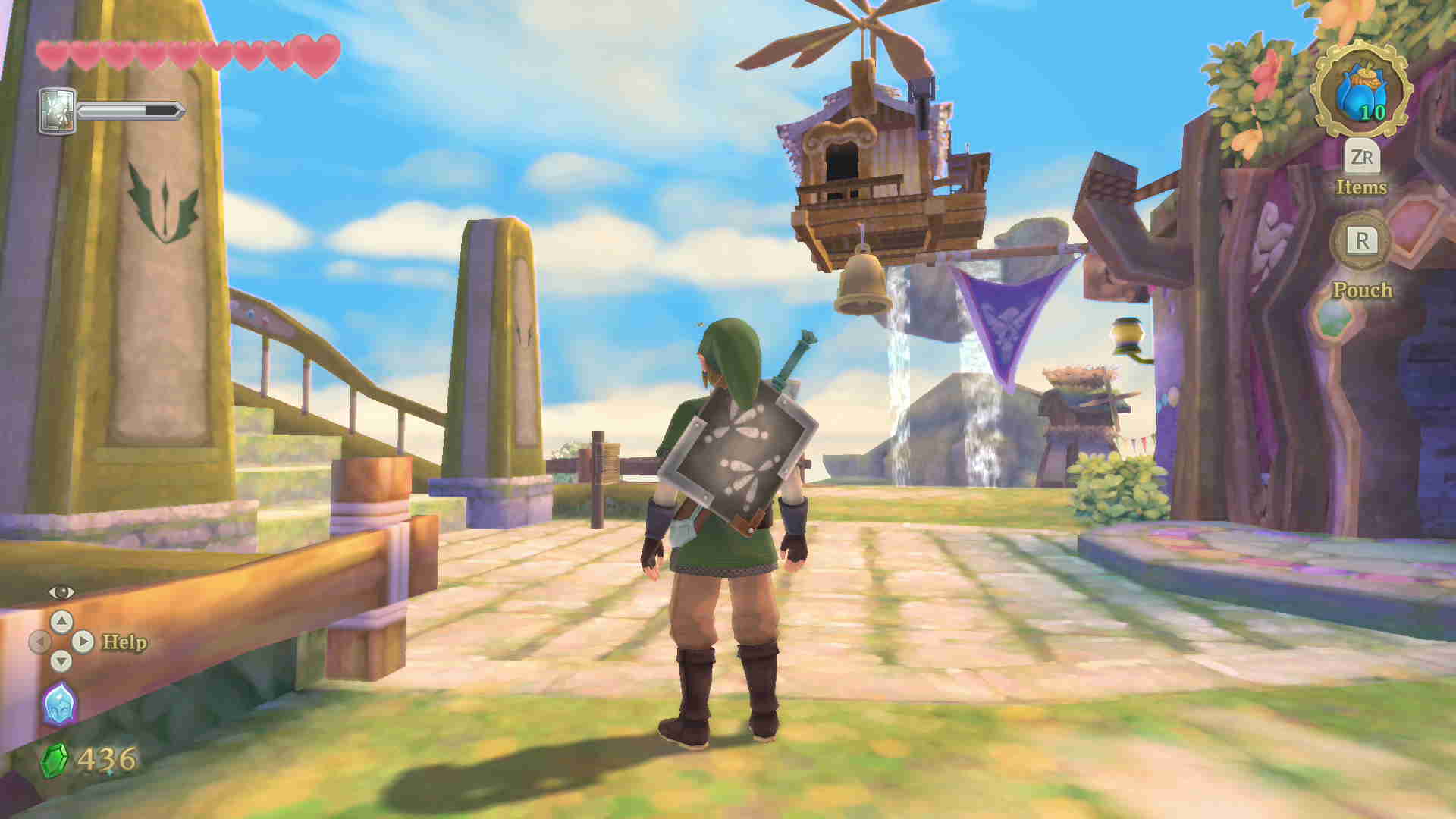 When you get again to Skyloft, Fi will inform you that the Goddess cubes reveal treasure chests in Skyloft. Ignore this, or seize the primary one you see, and begin looking out above you. Beedle's store is floating round in the course of the day above Skyloft.
However I can't fly, how do I stand up there?
Keep in mind that slingshot you simply bought? Right here's the place it's going to turn out to be useful. When you spy his store, search for the big bell beneath it. Get your slingshot out and take purpose, and ring his bell.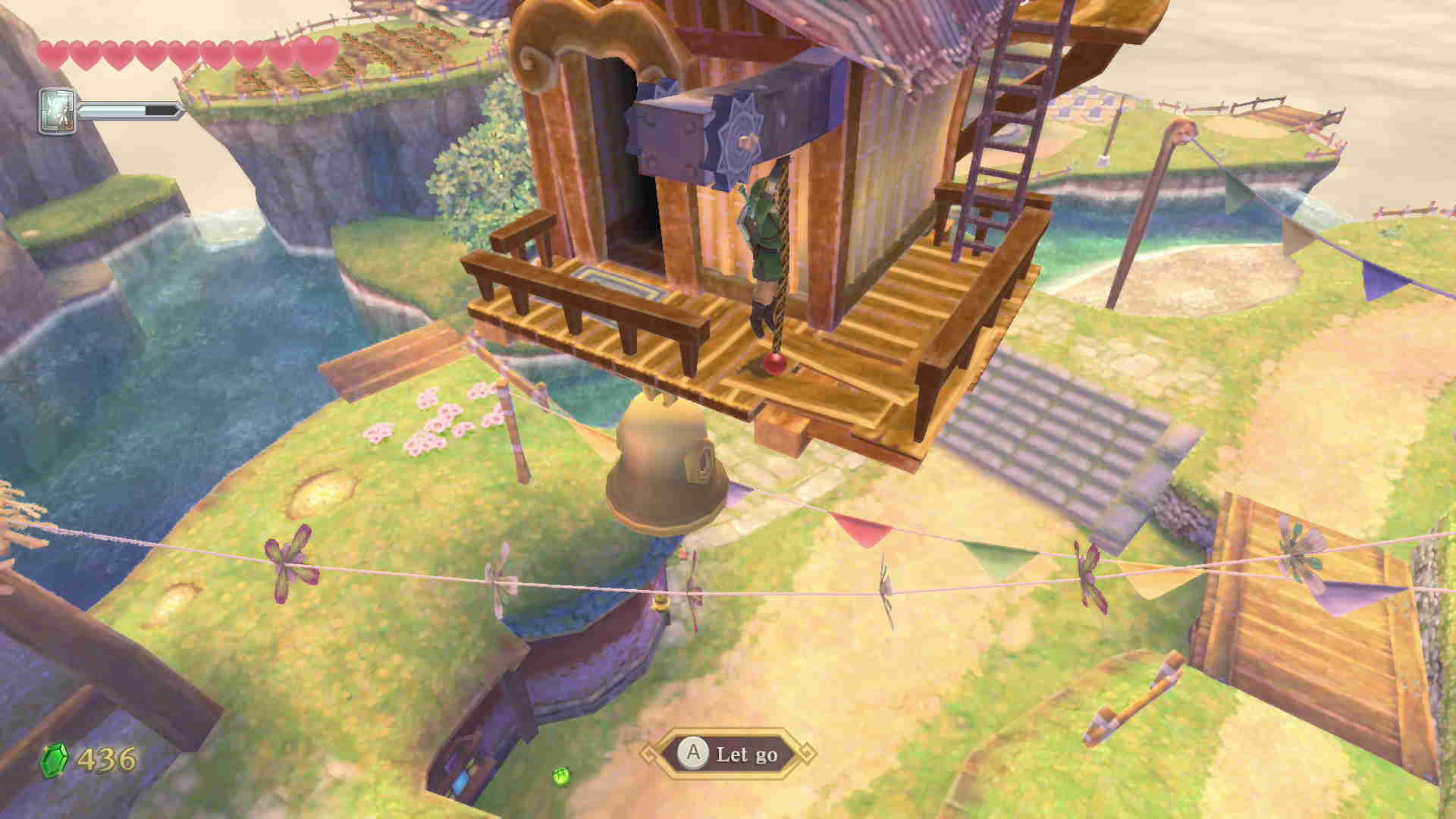 He'll instantly cease his store in its tracks and decrease a rope. Stroll as much as the rope, climb the rope, then go into the store. Get that web and the journey pouch improve asap! Additionally, know that he restocks with new gadgets related to your quests as you go on.
And that's it. That's how you discover and enter Beedle's store in Skyward Sword HD.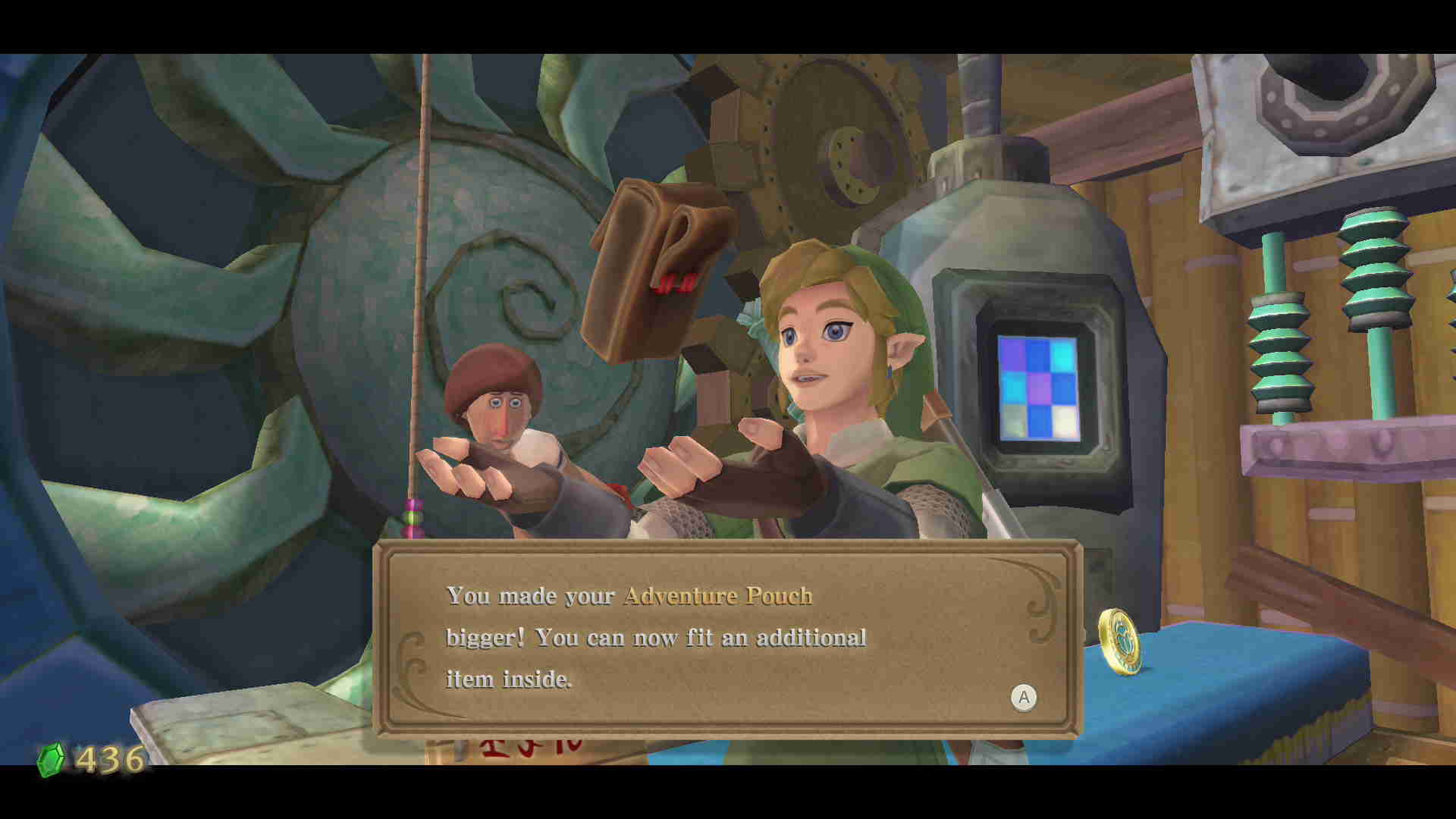 //HD images if (window.devicePixelRatio == 2) { var images = jQuery("img.hires"); // loop through the images and make them hi-res for(var i = 0; i < images.length; i++) { // create new image name var imageType = images[i].src.substr(-4); var imageName = images[i].src.substr(0, images[i].src.length - 4); imageName += "@2x" + imageType; //rename image images[i].src = imageName; } } //add bootstrap classes to wordpress generated elements jQuery('.avatar-70, .avatar-50').addClass('img-circle'); jQuery('.comment-reply-link').addClass('btn'); jQuery('#reply-form input#submit').addClass('btn'); jQuery('a.featured-image').colorbox(); jQuery('.colorbox').colorbox(); jQuery(".the-content a[href$='.jpg'],a[href$='.png'],a[href$='.gif']").colorbox(); jQuery('.the-content .gallery a').colorbox({rel:'gallery'}); //placeholder text for IE9 jQuery('input, textarea').placeholder(); //functions that need to run after ajax buttons are clicked dynamicElements(); //menu hover fx menuHovers(); }); //applied to elements within ajax panels function dynamicElements() { //boxes mouseovers jQuery("#boxes .box-link").hover( function() { jQuery(this).siblings(".box-layer").stop().animate({ 'opacity':'0.75' }, 100); }, function() { jQuery(this).siblings(".box-layer").stop().animate({ 'opacity':'0.65' }, 300); } ); jQuery(".post-list .box-link, .steam .box-link").hover( function() { jQuery(this).siblings(".box-layer").stop().animate({ 'opacity':'0.5' }, 100); }, function() { jQuery(this).siblings(".box-layer").stop().animate({ 'opacity':'0.4' }, 300); } ); //trending mouseovers jQuery(".trending-link").hover( function() { jQuery(this).siblings(".trending-color").children(".trending-hover").stop().animate({ 'opacity':'1' }, 100); }, function() { jQuery(this).siblings(".trending-color").children(".trending-hover").stop().animate({ 'opacity':'0' }, 300); } ); //more link hover effect jQuery(".hover-link").hover( function() { jQuery(this).siblings('.hover-text').addClass("active"); jQuery(this).parent().find('img').stop().animate({ opacity: .3 }, 150); }, function() { jQuery(this).siblings('.hover-text').removeClass("active"); jQuery(this).parent().find('img').stop().animate({ opacity: 1.0 }, 500); } ); //review directory hover effect jQuery(".directory-panel .listing a").hover( function() { jQuery(this).parent().addClass("active"); jQuery(this).children('img').stop().animate({ opacity: .6 }, 400); }, function() { jQuery(this).parent().removeClass("active"); jQuery(this).children('img').stop().animate({ opacity: 1.0 }, 800); } ); //jQuery tooltips jQuery('.info').tooltip(); jQuery('.info-bottom').tooltip({ placement: 'bottom' }); jQuery('.info-left').tooltip({ placement: 'left' }); jQuery('.info-right').tooltip({ placement: 'right' }); //jQuery popovers jQuery('.popthis').popover(); //jQuery alert dismissals jQuery(".alert").alert(); //jQuery fitvids jQuery('.video_frame').fitVids(); //equal height columns equalHeightColumns(jQuery("#articles .panel")); equalHeightColumns(jQuery("#mixed .widgets")); equalHeightColumns(jQuery("#content .content-inner, #content-wrapper .widgets-wrapper")); } //call equal height columns when window is resized jQuery(window).resize(function() { equalHeightColumns(jQuery("#articles .panel")); equalHeightColumns(jQuery("#mixed .widgets")); equalHeightColumns(jQuery("#content .content-inner, #content-wrapper .widgets-wrapper")); }); //call equal height columns when main content is resized jQuery("#articles").resize(function(e){ equalHeightColumns(jQuery("#articles .panel")); }); //call equal height columns when mixed is resized jQuery("#mixed").resize(function(e){ equalHeightColumns(jQuery("#mixed .widgets")); }); //call equal height columns when main content is resized jQuery("#content .content-inner > div").resize(function(e){ equalHeightColumns(jQuery("#content .content-inner, #content-wrapper .widgets-wrapper")); });
//call equal height columns when sidebar is resized jQuery("#content-wrapper .widgets-wrapper").resize(function(e){ equalHeightColumns(jQuery("#content .content-inner, #content-wrapper .widgets-wrapper")); });
//call equal height columns when main menu items are hovered since sub menus are //hidden and don't have heights until visible jQuery('body').on('mouseover', '#section-menu-full a.parent-item', function(e){ equalHeightColumns(jQuery("#section-menu-full ul.term-list, #section-menu-full li.post-list")); }); //equal height columns function equalHeightColumns(group) { tallest = 0; width = jQuery(window).width(); group.each(function() { jQuery(this).removeAttr('style'); thisHeight = jQuery(this).height(); if(thisHeight > tallest) { tallest = thisHeight; } }); if(width > 767) { group.height(tallest); //alert('it ran'); } } //menu hovers function menuHovers() { jQuery(".menu .post-list a").hover( function() { jQuery(this).children('img').stop().animate({ opacity: .3 }, 150); }, function() { jQuery(this).children('img').stop().animate({ opacity: 1.0 }, 500); } ); } //show search box jQuery("#menu-search-button").click( function() { jQuery('#menu-search').fadeToggle("fast"); jQuery(this).toggleClass('active'); } ); //search form submission jQuery("#searchformtop input").keypress(function(event) { if (event.which == 13) { event.preventDefault(); jQuery("#searchformtop").submit(); } }); //email subscribe form submission jQuery("#feedburner_subscribe button").click(function() { jQuery("#feedburner_subscribe").submit(); }); //show login form jQuery("#sticky-login").click(function() { jQuery('#sticky-login-form').animate({ height: 'toggle' }, 100, 'linear' ); jQuery('#sticky-register-form').hide(); jQuery('#sticky-register').removeClass('active'); jQuery(this).toggleClass('active'); }); //show register form jQuery("#sticky-register").click(function() { jQuery('#sticky-register-form').animate({ height: 'toggle' }, 100, 'linear' ); jQuery('#sticky-login-form').hide(); jQuery('#sticky-login').removeClass('active'); jQuery(this).toggleClass('active'); }); //submit button hover effects jQuery(".sticky-submit").hover(function() { jQuery(this).toggleClass("active"); }); //login form submission jQuery(".sticky-login-form #user_pass").keypress(function(event) { if (event.which == 13) { jQuery("#sticky-login-form .loading").show(); jQuery("form.sticky-login-form").animate({opacity: "0.15"}, 0); event.preventDefault(); jQuery(".sticky-login-form").submit(); } }); jQuery("#sticky-login-submit").click(function() { jQuery("#sticky-login-form .loading").show(); jQuery("form.sticky-login-form").animate({opacity: "0.15"}, 0); jQuery(".sticky-login-form").submit(); }); //register form submission jQuery(".sticky-register-form #user_email").keypress(function(event) { if (event.which == 13) { jQuery("#sticky-register-form .loading").show(); jQuery("form.sticky-register-form").animate({opacity: "0.15"}, 0); event.preventDefault(); jQuery(".sticky-register-form").submit(); } }); jQuery("#sticky-register-submit").click(function() { jQuery("#sticky-register-form .loading").show(); jQuery("form.sticky-register-form").animate({opacity: "0.15"}, 0); jQuery(".sticky-register-form").submit(); }); //hide check password message jQuery(".check-password").click(function() { jQuery(this).animate({ height: 'toggle' }, 100, 'linear' ); }); //show back to top arrow after page is scrolled jQuery(window).scroll(function() { if (jQuery(this).scrollTop() < 150) { jQuery("#back-to-top").fadeOut(); } else { jQuery("#back-to-top").fadeIn(); } }); //scroll all #top elements to top jQuery("a[href="#top"]").click(function() { jQuery("html, body").animate({ scrollTop: 0 }, "slow"); return false; }); //show new articles jQuery("#new-articles .selector").click(function() { jQuery('#new-articles .post-container').animate({ height: 'toggle' }, 100, 'linear' ); jQuery('#new-articles .selector').toggleClass('active'); }); //sidecar mouseovers jQuery(".sidecar-panel .sidecar-link").hover( function() { jQuery(this).siblings(".sidecar-layer").stop().animate({ 'opacity':'0.70' }, 100); }, function() { jQuery(this).siblings(".sidecar-layer").stop().animate({ 'opacity':'0.60' }, 300); } ); //sortbar mouseovers jQuery(".sortbar-hidden").hover( function() { jQuery(this).children(".sort-buttons").stop().fadeIn("fast"); }, function() { jQuery(this).children(".sort-buttons").stop().fadeOut("slow"); } ); //image darkening jQuery('body').on('mouseenter', '.darken', function(e) { jQuery(this).find('img').stop().animate({ opacity: .3 }, 150); }).on('mouseleave', '.darken', function(e) { jQuery(this).find('img').stop().animate({ opacity: 1.0 }, 500); }); // minisite cloud tabs jQuery('body').on('click', '.section-buttons .sort-buttons a', function(e){ jQuery(this).parent().siblings().find('.minisite-icon').removeClass('white'); jQuery(this).children('.minisite-icon').addClass('white'); }); //postnav mouseovers jQuery("#postnav a").hover( function() { jQuery(this).siblings('.inner-content').addClass('active'); }, function() { jQuery(this).siblings('.inner-content').removeClass('active'); } ); //rating animations function animateRating(pos,delay,eid) { jQuery('#' + eid + ' .rating-meter').delay(delay).animate({ opacity:1, left: pos + '%' }, 2500, 'easeOutCubic'); } //pinterest (function(d){ var f = d.getElementsByTagName('SCRIPT')[0], p = d.createElement('SCRIPT'); p.type="text/javascript"; p.async = true; p.src="https://assets.pinterest.com/js/pinit.js"; f.parentNode.insertBefore(p, f); }(document)); //facebook (function(d, s, id) { var js, fjs = d.getElementsByTagName(s)[0]; if (d.getElementById(id)) return; js = d.createElement(s); js.id = id; js.src = "//connect.facebook.net/en_US/all.js#xfbml=1&status=0"; fjs.parentNode.insertBefore(js, fjs); }(document, 'script', 'facebook-jssdk')); //WINDOW.LOAD jQuery(window).load(function() { //flickr jQuery('.flickr').jflickrfeed({ limit: 9, qstrings: { id: '' }, itemTemplate: '
'+ '' + '
' + '' + '
' }, function(data) { });
//tabs - these must go in window.load so pinterest will work inside a tab jQuery('.widgets-wrapper .it-clouds').tabs({ fx: { opacity: 'toggle', duration: 150 } }); jQuery('#footer .it-clouds').tabs({ fx: { opacity: 'toggle', duration: 150 } }); jQuery('.widgets-wrapper .it-social-tabs').tabs({ fx: { opacity: 'toggle', duration: 150 } }); jQuery('#footer .it-social-tabs').tabs({ fx: { opacity: 'toggle', duration: 150 } });
//third-party vendors (like Facebook) take a while to run sometimes function adjustColumnsDelayed() { equalHeightColumns(jQuery("#articles .panel")); equalHeightColumns(jQuery("#mixed .widgets")); equalHeightColumns(jQuery("#content .content-inner, #content-wrapper .widgets-wrapper")); } setTimeout(adjustColumnsDelayed, 1000) });
jQuery.noConflict();
Skyward Sword HD | How to find and enter Beedle's flying air shop