How do sisters Cara, Poppy and Chloe Delevingne get the job done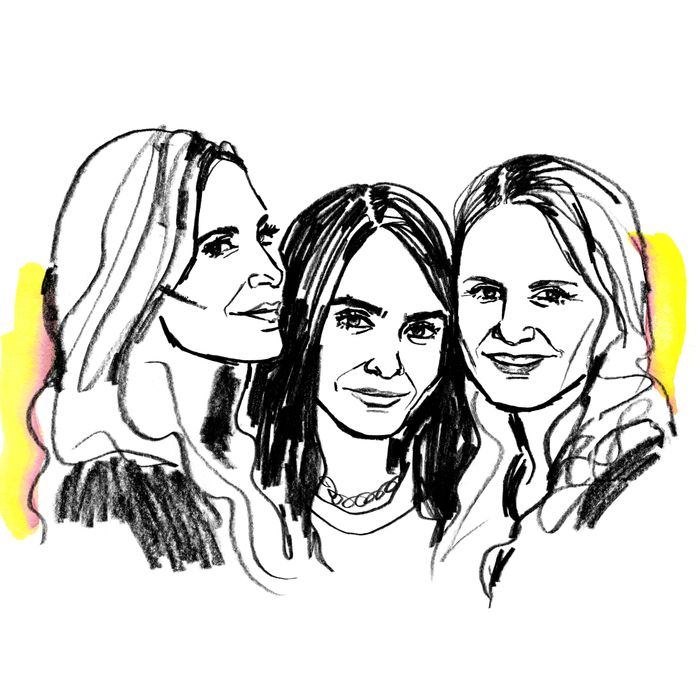 Illustration: Lauren Tamaki
The eldest sister of the Delevingne family Chloemiddle daughter Poppy, and the youngest, Cara, has dominated many industries between the three: fashion, film, music, publishing, and women's health. But the trio never embarked on a project together until last year when they debuted Della Vite, a vegan and sustainably produced Prosecco – the drink of their choice, and one that suits their bubbly personality. Starting a new business endeavor in 2020 obviously comes with its challenges, so the launch of Della Vite into markets outside the UK has been delayed, but the brand has made its debut at America this fall, make them very excited. Chloe lives with her husband and children in London, Poppy with her husband in London, and Cara lives in Los Angeles. During a heated quad conference call, the sisters told the Cut how they get things done together.
Working together for the first time:
Cara: It needs to be the right thing, something we are all equally passionate about and something we all love. Prosecco is what keeps us together, whether it's a birthday or a wedding, good or bad, it's always what binds us together.
Poppy: Honestly, it was a dream come true. We always wanted to do something together. The fact that we really worked to achieve it and take it on – that's an achievement, and doing it as sisters is the best thing about it. What was really interesting during this process [is what we've learned about one another]. Like Chloe is super good at giving interviews, and Cara is very creative, but also really cares about numbers. There are so many different elements that we're really good at that have been quite surprising throughout this whole experience, which is pretty cool to watch.
About the challenges solved:
Chloe: We are really lucky because we don't have many challenges, but I have to say that we always want to be together. We are all very different, we all have different perspectives and we all want to be on the same page with every decision that is made. This product, it's really our baby and we are the co-founders. So we are part of every decision-making process that happens. Whatever challenges we face, make sure everyone is on the same page, not just us but every member of our incredible team. I think just being really on top and making sure we all agree and things are probably going to be a challenge.
Poppy: If it's night here [in London], it's morning in Los Angeles, so some people at some point have to drink at inopportune times of the day. [Laughs.]
Spotting Della Vite in the wild:
Chloe: I'm always the one who's really shy where I'm really really sorry. I can have a bottle in a second to photograph it. It was a moment that really annoyed me to see it served at Annabel's, a very popular restaurant in London and an old membership club that has existed since the dawn of time. Such a thing is an honor. Not only does it have to be the big venues, but it's always a moment of delight just to see Della Vite in any window behind any bar. It is a truly amazing feeling.
About how they relax:
Poppy: I love bathing. I could sit for ten hours and get everything like trimming. It's the only way I can relax – see You in the bath with a bottle of Della Vite.
Cara: It depends on me more than what it is – if I strain my eyeballs, that means I need some befriending therapy. It's probably the right time to enjoy a cup of tea or a glass of Prosecco and maybe sit back and chat with friends and share whatever's going on. If I'm too tired, I turn off my phone, recharge it, and take a shower. We are all bathroom sluts in our family.
About holiday traditions:
Poppy: We all got together for Christmas this year, which was really fun. We eat a lot. We play a lot of games. Sometimes we wear something matching or an animal inspired jacket. We are all given different tasks in terms of what we have to carry. So someone is in charge of cheese, someone is in charge of wine, someone is in charge of turkey. We come together and catch up and reconnect and laugh. We can stay in front of the fire and watch Bride's Father one hundred times.
To make sure Della Vite is vegan and sustainable:
Poppy: From the very beginning, it was something that was very important to us. So that was one of our first goals for Della Vite, not only to make it sustainable but also to be vegan so that everyone could enjoy it. I didn't know about you guys, I didn't know that wine wasn't vegan.
Cara: That's a huge factor in how we collaborate for wineries. Biasotto is the one we landed on. And they're also passionate about sustainability. You can see the strength throughout their winery and the hand-picked grapes, the nitrogens used in the aging process and all the different aspects we're really passionate about.
Chloe: When it comes to wine production, you want to make sure that your environment is taken care of. And anyway, sustainability and cruelty-free are important in our lives. So it must be an important part of our company.
On how their ambitions have changed:
Cara: I think for all of us and I was the youngest, as I am now obsessed with grocery shopping. I know that's not an ambition, but I definitely think that priorities will change and you're more concerned with longevity or the future I suppose.
Poppy: This sounds really crazy but I really expect to not do anything for a minute.
Follow the advice they give their young people:
Poppy: I would tell my young self to slow down and enjoy the moment. I think we spend too much time rushing in life. You're back, close to 40, and you're not focused on anything. But slow down and take a breather.
Chloe: Slow down, breathe, and remove makeup before bed.
Cara: I still don't do it!


https://www.thecut.com/2021/11/how-the-delevingne-sisters-get-it-done.html How do sisters Cara, Poppy and Chloe Delevingne get the job done