Ghislaine Maxwell: Everything to Know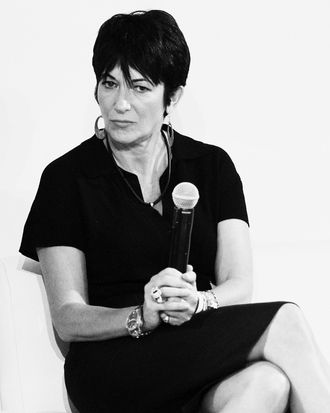 Ghislaine Maxwell
Photo: Laura Cavanaugh/Getty Images
The long-awaited sex-trafficking trial of Ghislaine Maxwell, a former girlfriend and longtime associate of the disgraced billionaire pedophile Jeffrey Epstein, begins November 29 in New York. Maxwell was arrested by the FBI on charges related to Epstein's sex-trafficking ring in June 2020. She was closely linked with Epstein for years, who died by apparent suicide in August 2019, while he was in jail awaiting trial over charges that he had trafficked and sexually abused dozens of underage girls. According to the federal indictment against her, Maxwell is accused of helping Epstein "recruit, groom, and ultimately abuse" girls — some as young as 14 — as well as lying about it under oath "in an effort to conceal her crimes."
Maxwell has repeatedly denied the many accusations against her and managed to dodge charges for years until her recent arrest. Here's what to know about Maxwell and her upcoming trial.
The 2020 federal indictment against Maxwell mirrors claims that many of Epstein's alleged victims have long made: that Maxwell was a central figure in Epstein's sex-trafficking ring. "In particular," the indictment reads, "from at least in or about 1994, up to and including at least in or about 1997, Maxwell assisted, facilitated, and contributed to Jeffrey Epstein's abuse of minor girls by, among other things, helping Epstein to recruit, groom, and ultimately abuse victims known to Maxwell and Epstein to be under the age of 18." To befriend victims, the indictment says, Maxwell would ask them about "their lives, their schools, and their families," and would take them "to the movies or shopping." Then, after forming a rapport, Maxwell would "try to normalize sexual abuse for a minor victim by among other things, discussing sexual topics, undressing in front of the victim, being present when a minor victim was undressed, and/or being present for sex acts involving the minor victim and Epstein."
The indictment goes on to describe the alleged experiences of three unnamed minors: a 14-year-old girl who Maxwell involved in "group sexualized massages" at Epstein's Upper East Side apartment and Palm Beach residence; a minor who Epstein convinced to visit his residence in New Mexico, where a topless Maxwell gave the minor an "unsolicited massage" and instructed the minor to massage Epstein; and a third victim who Maxwell encouraged to massage Epstein in her London residence, "knowing that Epstein intended to sexually abuse [her] during those massages." The indictment also accuses Maxwell of lying under oath in 2016.
Maxwell is the daughter of publisher Robert Maxwell — in short, she comes from money. Per The Wall Street Journal, she grew up and attended university in England, then moved to the United States in 1991 after her father fell to his death from his yacht, the Lady Ghislaine. (Epstein reportedly used a yacht with the same name to transport women from St. Thomas in the Caribbean to his own private island, which locals have nicknamed "Pedophile Island.") Exactly how Maxwell and Epstein met is unclear, but the two reportedly dated for a short period of time around 1992, then remained close friends after breaking up. Per a 2002 New York Magazine profile of Epstein, Maxwell — who has been linked to Epstein for more than two decades — "lent a little pizzazz to the lower-profile Epstein." The story continues:
The Oxford-educated Maxwell, described by many as a man-eater (she flies her own helicopter and was recently seen dining with [Bill] Clinton at Nello's on Madison Avenue), lives in her own townhouse a few blocks away. Epstein is frequently seen around town with a bevy of comely young women but there has been no boldfaced name to replace Maxwell. "You may read about Jeffrey in the social columns, but there is much more to him than that," says Jeffrey T. Leeds of the private equity firm Leeds Weld & Co.
She also, in 2012, founded the TerraMar Project, a nonprofit that advocates for protecting ocean waters. The organization shut down in the summer of 2019, after further charges against Epstein went public.
Over the years, Maxwell has been photographed alongside many prominent, powerful people who are linked to Epstein, such as Donald Trump, Prince Andrew, Bill Clinton, Michael Bloomberg, former Goldman Sachs executive Lloyd Blankfein, and lawyer Alan Dershowitz. Maxwell was even a guest at Chelsea Clinton's wedding in 2010.
In 2020, photos emerged of Maxwell and actor Kevin Spacey — who has also been credibly accused of, and criminally charged for, serial sexual predation and assault — posing on the thrones at Buckingham Palace. The Telegraph reports that Prince Andrew invited Maxwell, who perched on the Queen's seat in defiance of royal protocol, into the throne room during a private tour of the palace he arranged in 2002. According to the New York Post, Clinton was also present for the visit, although there's presently no indication that Epstein came along. In 2019, according to reports by CNN, a spokesman for Bill Clinton said that the former president "knew nothing about the terrible crimes" Epstein committed in Florida and New York. Prince Andrew has also repeatedly denied any complicity in Epstein's alleged sex ring, though earlier this year, he was sued by Virginia Giuffre, who alleges that he raped her when she was 17. Prince Andrew has denied the allegations and has claimed to have no memory of meeting Giuffre, despite a photo that shows the two together with Maxwell.
Lawyers have claimed that Epstein and Maxwell acted as the leaders of an "organized crime family," according to multiple court filings reviewed by the Miami Herald, and that Maxwell helped traffic girls and women to powerful figures. Per the documents, Maxwell lured the alleged victims into the sex ring by offering them modeling, fashion, and educational opportunities. Furthermore, in 2009 depositions, two former house managers testified that Maxwell kept photos of young women in sexual acts.
In a 2009 lawsuit against Epstein, Giuffre claimed that Maxwell had recruited her into Epstein's sex ring to be a "sex slave" when she was just 16. She went on to file a defamation suit against Maxwell in 2009, in response to Maxwell calling her claims "entirely false" on numerous occasions, but the two settled it out of court, meaning that a significant portion of the filings were sealed. In 2019, a federal appeals court unsealed some 2,000 pages of those documents. As expected, they were explosive.
One part made public includes photographs showing Giuffre standing next to Prince Andrew, Maxwell, and Epstein, all of whom she claims to have had sexual relations with. (According to a testimony from Tony Figueroa, Epstein's former bodyguard, Giuffre told him that she had threesomes with Maxwell and Epstein, which involved using "strap-ons and dildos and everything." Maxwell has denied her role in the alleged sex ring, as has Prince Andrew. ) The documents also claim that Maxwell gave Giuffre plane tickets to Thailand, where she was instructed to meet a young girl and "bring her back to the U.S. for Epstein and [her]" — a claim in part corroborated by records of Giuffre's hotel stay, which she produced.
The documents also shed a damning light on Epstein and Maxwell's alleged abuse of other underage girls. A woman named Johanna Sjoberg testified that when she was a student at Palm Beach Atlantic College in 2001, Maxwell lured her to Epstein's "under the guise of a legitimate job of answering phones." Once there, she claims, she was instructed by someone named Emmy Taylor — whom Maxwell allegedly referred to as her "sex slave" — to massage Epstein to orgasm. Furthermore, Rinaldo Rizzo, the house manager for one of Maxwell's close friends, claimed that Maxwell once brought a "distraught" 15-year-old Swedish girl into his employer's home; per his testimony, the girl told Rizzo that Maxwell had taken her passport and attempted to force her into having sex with Epstein on his private island. (A spokesperson for Rizzo's former employer called these allegations "demonstrably false.")
But sometimes, Maxwell took more of a background role in the alleged child sex ring, per the documents. In 2005, during the execution of a search warrant, investigators uncovered incriminating pads of phone messages from Epstein's alleged victims calling about "massage" time slots; the messages, per the documents, were written in code by Maxwell and other associates. For example, one message reads, "He has a teacher for you to teach you how to speak Russian. She is 2X8 years old not blonde. Lessons are free and you can have your 1st today if you call." The code 2X8, per the documents, means that the girl to whom the message refers was 16.
In 1996, 26-year-old New York artist Maria Farmer reported Epstein and Maxwell to the NYPD and the FBI, alleging that the pair sexually assaulted her and her 16-year-old sister, Annie Farmer, on separate occasions. Epstein and Maxwell allegedly ordered Annie Farmer to fly out to New Mexico. Annie said that Maxwell instructed her to give Epstein a foot massage, and that Maxwell gave her a topless massage while Epstein watched. Maria said that Epstein and Maxwell later groped her during a visit to her New York apartment. According to a New York Times profile of the sisters, the legal reports Maria made went nowhere. But afterward, Maria claimed she received threatening phone calls from Maxwell.
It was notoriously difficult to track down Maxwell, who disappeared from public life around 2016 after the details about her involvement with Epstein surfaced. That year, her Manhattan townhouse sold for $15 million. Afterward, no one knew for certain where Maxwell was. Conspiracies followed, as did an alleged sighting at an In-N-Out in L.A. According to prosecutors, she spent the year before her arrest hiding out at various New England spots. The Times reports that Maxwell changed her email, used a different name on shipping labels, and registered a new phone number under the pseudonym "G Max."
On July 2, 2020, the FBI arrested Maxwell in Bradford, New Hampshire, at the remote mansion where she'd been hiding and took her into custody. Maxwell faced six counts altogether: conspiracy to entice minors to travel to engage in illegal sex acts, enticement of a minor to travel to engage in illegal sexual acts, conspiracy to transport minors with intent to engage in criminal sexual activity, transportation of a minor with intent to engage in criminal sexual activity, and two counts of perjury. Maxwell pleaded not guilty, and her appeal for bail was denied, with the judge noting that she posed an extreme flight risk. Maxwell has made subsequent requests to be released on bail, all of which have been denied.
In March 2021, a superseding indictment from a Manhattan grand jury added charges of sex-trafficking conspiracy and sex trafficking. The new indictment included allegations by a fourth victim, who claimed abuse by Epstein multiple times in the early aughts at his Florida residence and said that Maxwell groomed her, giving her lavish gifts of money and lingerie. The woman also said that Maxwell encouraged her to recruit more girls for Epstein and occasionally joined in on the abuse, which allegedly began when the victim was 14 years old.
In light of the new charges — to which Maxwell also pleaded not guilty — a judge ruled to postpone the trial from July 2021 to November. A judge also ruled that victims who testify may use pseudonyms. The trial is set to begin on November 29 and is expected to last six weeks. Jury selection began this week.
This post has been updated.


https://www.thecut.com/2021/11/ghislaine-maxwell-jeffrey-epstein-alleged-madam.html Ghislaine Maxwell: Everything to Know