"Easier than a guy you're really scared of throwing a punch sometimes," Michael Chandler compares Justin Gaethje to Conor McGregor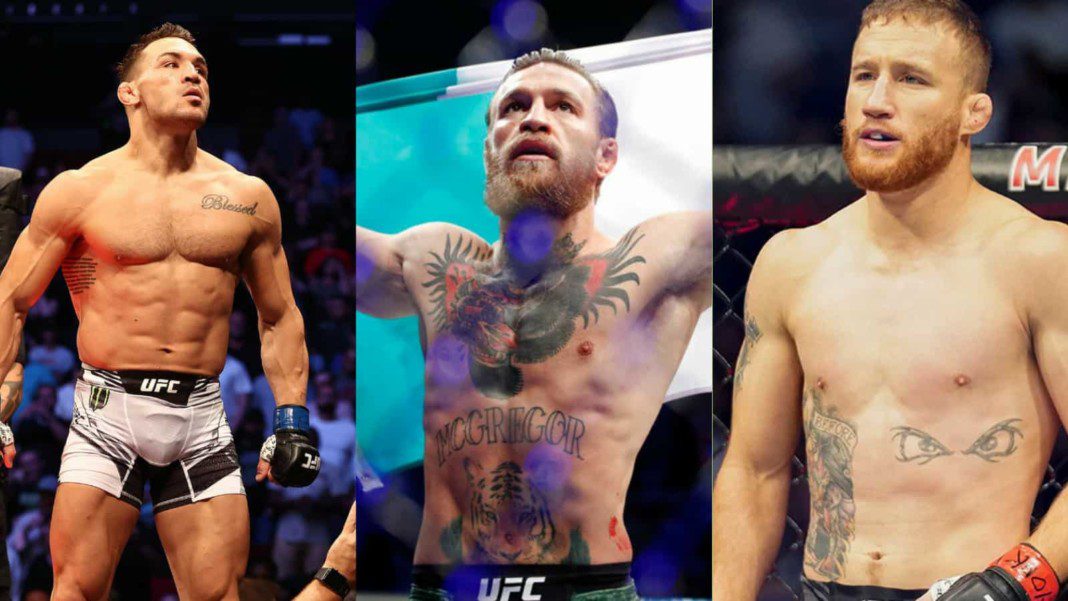 Michael Chandler is back with his love for Conor! It's no joke that Conor McGregor is one of the biggest superstars in MMA history. Even with all the controversies and incidents that have befallen him over the past few years, he is widely regarded as one of the best mixed martial artists to ever step inside the octagon. Michael Chandler has watched Conor's career quite closely, and it wouldn't be crazy to say that he's also a fan.
Chandler has stated many times that he is interested in fighting McGregor. In his recent appearance on Bussin's 'With the Boys' podcast, he believes that Conor is a very special individual, and who thinks otherwise whether hater or causal, he said, "It's a different approach when you're fighting a guy like Conor for fighting a guy like Gaethje, a brawler, it's much easier than a guy you're really scared of sometimes throwing a punch at you because of the hit you don't see when you're pulling your hand back."
He added, "So you definitely have to use your Ps and Qs to stand out. But then, the most interesting thing about Conor, is that people are always talking about how bad he is as a wrestler, how bad as a grappler. Chad Mendes knocked him down a few times. He was knocked down a couple of times during the second fight with Diaz. He was knocked down several times in other battles. And he has always kept his composure.
"He's a competitor on another level, "Michael Chandler on Conor McGregor
Chandler claims Conor is good at high-level fights and his ability to stay calm in the heat of battle is commendable. Chandler knows this all too well because, during his fight against Justin Gaethje, he began to enjoy himself to the point of literally throwing the game out the window, and started dealing with him like crazy, which eventually resulted in him losing the fight on the judges' scorecards, and now he's recovering from post-battle bruises.
Speaking of Conor, he added, "His mental capacity and stability inside the octagon, within the bounds of competition – especially with high stakes and senses, inside his matches , while people all over the world are watching – that's remarkable, man. He's a competitor on another level. And anyone who discredits him because he lost the battle is just a regular person or a Conor hater, to be honest with you. "
Also read – "When the time comes, I'm sure he won't be short of options," Conor McGregor's trainer John Kavanagh provided an update on his return.
https://firstsportz.com/ufc-michael-chandler-conor-and-gaethje/ "Easier than a guy you're really scared of throwing a punch sometimes," Michael Chandler compares Justin Gaethje to Conor McGregor