College Football Power Rankings: Cincinnati, Michigan step up big ahead of conference title games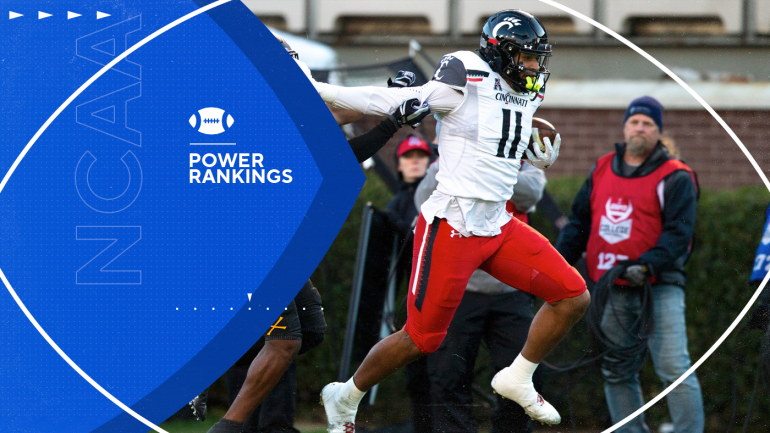 CBS Sports graphic
Among the many problems with the College Football Playoff is its, well, exclusivity. Some might even call it a monopoly. Through seven seasons of the CFP, only 12 teams have played in it.
That's about to change. Maybe.
Week 13's upheaval put at least three newbies in line for a playoff berth. Cincinnati you've known about. The Bearcats completed an undefeated season spiced with two Power Five wins. Oklahoma State, the state's "Little Brother", rose up and knocked off its despised rival, Oklahoma.
And what about Michigan? Not exactly a newcomer to the national scene with the most wins in college football history, but finally beating Ohio State — the program with the second-most all-time wins — in a de facto CFP elimination match was something special. The Wolverines stayed alive for at least one more week.
As we wind down, the CFP is ensured to see some variety in Year 8. Clemson and Ohio State will not be in. Alabama barely remains alive. If form holds and the top four in the Power Rankings win, you are staring at a reflection of what an expanded playoff looks like: fresh. Consider the thrills associated with these possible semifinals:
No 1 Georgia vs. No 4 Oklahoma State: Kirby vs the Cowboys. The Dawgs' withering pass rush vs. the Pokes' almost equally stout defense. Absence (from playing each other) makes the uncertainty grow stronger. The team have met four times, the last 12 years ago.
No. 2 Cincinnati vs No. 3 Michigan: This has the look of a really neat nonconference game. Instead, it is an intriguing semifinal. The only game between the two resulted in a 36-14 Michigan win in 2017.
Georgia has not won a national championship since 1980. Michigan hasn't hoisted the final trophy since 1997. Oklahoma State claims one in 1945. Cincinnati, of course, is breaking new ground entirely.
That's the way it stands now. To conclude your holiday weekend, gorge on the remainder of the season's final Power Rankings. It's been my pleasure to serve you. 
Biggest Movers
| Rk | Teams |   | Chg | Rcrd |
| --- | --- | --- | --- | --- |
| 1 | Georgia | The preliminaries are over for the nation's No 1 team. The Dawgs skunked Georgia Tech. Now they seek to add on to their first 12-0 season since 1980. Back then that record was good enough a national championship. Now, it just gets you a No. 1 ranking heading to the SEC Championship Game. Perhaps the biggest news from Saturday: a George Pickens sighting. Georgia's best receiver had one catch for 5 yards following a lengthy rehab from knee surgery. | — | 12-0 |
| 2 | Cincinnati | With only two undefeated teams left, Cincinnati is safely in the top four. Win (vs. Houston the AAC title game) and the Bearcats are in the CFP. Cincinnati overwhelmed East Carolina to go to 12-0 for the first time since somebody named Brian Kelly won the Big East in 2009. Beat the Cougars, and the first Group of Five team in history will play for a national title. | 2 | 12-0 |
| 3 | Michigan | Snow, tears and Jim Harbaugh. No, that's not a bad country song. That's setting the scene as the points and emotions piled up like the white stuff at The Big House. Michigan broke an eight-game losing streak against Ohio State in style. The 42 points were the most scored by Michigan against the Buckeyes since 1946! The celebration winds down the Wolverines will realize they still have to win the Big Ten to keep the buzz going. | 2 | 11-1 |
| 4 | Oklahoma State | The Cowboys rallied for 13 fourth-quarter points to keep alive the playoff dream. For only the third time in Mike Gundy's 17 seasons, OSU won Bedlam. Now, there is an inevitable Big 12 rematch with Baylor for what might be a playoff berth. | 2 | 11-1 |
| 5 | Alabama | The Tide deserve to drop out of the top four after slopping around with Auburn. It took a 97-yard drive and score with 24 seconds left just to get it to overtime. It was exciting, but Bama isn't worthy of a top-four berth at this point. Five times the Tide have played a one-score games this season. They've won four of them. That would be used against another team if a playoff berth was a stake. Bama has not been dominating. | 2 | 11-1 |
| 6 | Notre Dame | As Stanford went down meekly, the Irish quietly elbowed their way into the playoff conversation. Notre Dame has no more games to play, but if Oklahoma State and/or Michigan lose this week, pencil in the Irish for their third playoff in four years. | 2 | 11-1 |
| 7 | Ohio State | The Buckeyes saved their worst for last. Both lines were pushed around at the worst possible time at Michigan. Now it looks like the Rose Bowl could be a "fall back". Will C.J. Stroud get a Heisman Trophy ceremony invite? | 5 | 10-2 |
| 8 | Baylor | Is Dave Aranda coaching his last game in the Big 12 Championship Game, or is he ready to sign an extension? Either way, Baylor has sifted through three coaches since the sexual assault scandal hit in 2016 while playing in the conference title game two of the last three years. Oklahoma State won the season's first meeting, 24-14. | 1 | 10-2 |
| 9 | Oregon | That was a nice rebound win in what used to be known as the Civil War. The Ducks got past Oregon State and got themselves to the Pac-12 Championship Game in a rematch with Utah. The winner goes to the Rose Bowl. Best preliminary battle this week might be Phil Knight against Miami/LSU for the services of Mario Cristobal. | 1 | 10-2 |
| 10 | Michigan State | In the battle of mega-contracts, Mel Tucker won out over James Franklin. Heck, might as well start keeping track. Tucker is 1-0 since officially signing his monster deal. James Franklin is 0-1 as the Spartans hang on at home to win by three. | 1 | 10-2 |
| 11 | Ole Miss | Lane Kiffin has officially arrived. Who cares if it's been 20 years in the making. Ole Miss' coach has guided the program to its most wins ever (10) and a likely Sugar Bowl berth. On Thanksgiving it was all Egg Bowl, no dog pee hijinks in the end zone. | 1 | 10-2 |
| 12 | Oklahoma | OU's six-year reign as Big 12 champions is over. It was bitter as OSU scored 13 unanswered points in the fourth quarter to pull out Bedlam. For only the second time this season, OU did not score an offensive point in the second half. For the first time since the Big 12 reinstituted its title game, the Sooners will not be in it. | 5 | 10-2 |
| 13 | Iowa | Another game, another Nebraska collapse. But give the Hawkeyes credit. They rallied for 19 fourth-quarter points to stun the Huskers and (eventually) advance to the Big Ten title game. If you saw the Hawkeyes at almost any point this season, you would have not believed Indianapolis would be the end result. Iowa has gotten there with the third-worst Power Five offense, 123rd out of 130 in FBS. | 1 | 10-2 |
| 14 | Pittsburgh | Let's hope the chase for an expanded playoff in the future doesn't overshadow seasons like this. Led by Heisman candidate Kenny Pickett, the Panthers won 10 for the first time since 1981 in beating Syracuse. That's when some guy named Dan Marino finished fourth in the Heisman voting. | 1 | 10-2 |
| 15 | BYU | The Cougars won at least 10 in consecutive years for the first time since 2009 after beating USC. Also, fun fact: BYU beat five Pac-12 teams which is more conference wins than half the Pac-12. | — | 10-2 |
| 16 | Wake Forest | What a week to be a Demon Deacon. Dave Clawson agreed to an extension and his team rewarded him with a berth in the ACC title game after beating Boston College. Somewhere, Jim Grobe is smiling. | — | 10-2 |
| 17 | Utah | Kyle Whittingham should be Pac-12 coach of this century. In the same year he became the program's winningest coach, his Utes suffered the loss of two teammates from gunshots. Could Whittingham cap it off with the program's first Pac-12 championship? | 1 | 9-3 |
| 18 | Houston | Quite a season for the Air Raid tree. Oklahoma (Lincoln Riley) won 10. Mississippi State (Mike Leach) spawned the SEC's leading passer (Will Rogers). Now Dana Holgorsen has led the Cougars to their most wins (11) since 2015 (13). Notre Dame is a big fan this week. A Houston win in the AAC title game might open up a playoff spot for the Irish. | 1 | 11-1 |
| 19 | Louisiana | Billy Napier is off to Florida but will still coach Louisiana in the program's best chance to win the Sun Belt championship after an 11-1 regular season. It's been a special last two years for the Ragin' Cajuns, and Napier can go out – and walk into UF – on a high note. | 3 | 11-1 |
| 20 | San Diego State | The team without a home finished 11-1 under Brady Hoke, Part II. While the Aztecs wait for their new stadium to be built in San Diego, they traveled 115 miles north for each home game up to Carson, California. They literally had no home stadium. This is one of the most underrated stories of the season. | 3 | 11-1 |
| 21 | UTSA | A floundering North Texas team gained bowl eligibility by routing UTSA, one of three remaining unbeaten teams before Saturday. Figure that one out. UTSA still hosts the Conference USA Championship Game against Western Kentucky. | 4 | 11-1 |
| 22 | NC State | Devin Leary threw two touchdown passes 26 seconds apart as the Wolfpack became the latest ACC foe to expose North Carolina. Leary's 35 touchdown passes broke the school record held by Phillip Rivers. | 2 | 9-3 |
| 23 | Clemson | In the same season, Clemson scored 17 or fewer points four times; it also scored at least 30 six times. Go figure. These Tigers got it together late in the season winning their last five in a row including a season-ending shutout of South Carolina. | 2 | 9-3 |
| 24 | Arkansas | The 8-4 season reflects the best winning percentage in Hog Heaven since one Bobby Petrino went 11-2 in 2011. These Hogs are going to be fun to watch in 2022. As many as nine super seniors could return next season. For now, a satisfying win over Missouri meant Arkansas finished in a tie for third in the SEC West. That's the highest since 2015. | NR | 8-4 |
| 25 | Minnesota | With the Big Ten West on the line, Wisconsin gacked. The Gophers' 23-13 win broke the Badgers' seven-game winning streak and kept Wisconsin from playing Michigan in the Big Ten Championship Game. 2020 Big Ten back of the year Mohamed Ibrahim brightened hopes for next season by announcing he would return following a season-ending knee injury in September. | NR | 8-4 |
Out: Texas A&M, Wisconsin


https://www.cbssports.com/college-football/news/college-football-power-rankings-cincinnati-michigan-step-up-big-ahead-of-conference-title-games/ College Football Power Rankings: Cincinnati, Michigan step up big ahead of conference title games