Coaches Top 25 Poll: Oklahoma State makes top 5, Oklahoma falls out of top 10 in college football rankings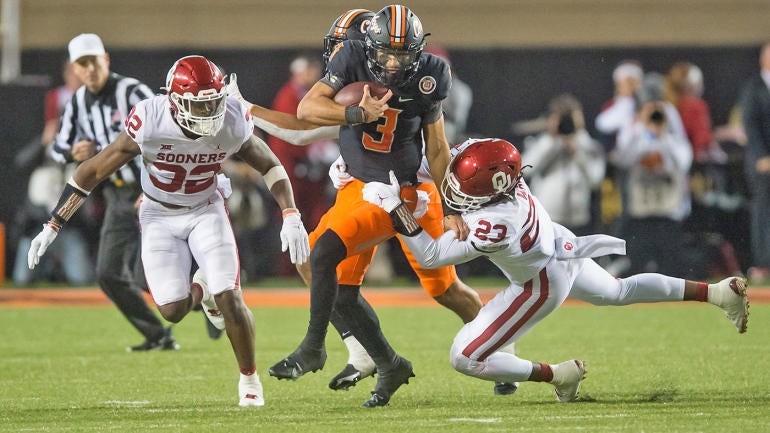 After Oklahoma State nasty opponent Oklahoma For the first time since 2014 at the annual Bedlam game, the Cowboys rose to 5th in the Week 13 Coaches Poll. Oklahoma, meanwhile, fell out of the top 10, dropping two down to 11th place.
Michigan also rose three places to 3rd in the poll, taking Ohio State came in after beating the Buckeyes 42-27 in their first win since 2011. In contrast, Ohio State dropped four places to 7th. Georgia remains firmly in 1st place with every vote in first place, while Alabama still comfortably in 2nd place. Cincinnati sit in 4th place.
After losing the first match with North Texas, UTSA fell out of the polls. Wisconsin also dropped out of school after ruining his chance to play for the Big Ten Championship by losing Minnesota in the season finale. Texas A&M dropped 9 places to 23rd place after losing LSU. Clemson re-entered the poll after not ranking a week ago, along with Arkansas in 25th place.
See the full 25 Coach polls below. Votes in the first place in parentheses.
Georgia (62)
Alabama
Michigan
Cincinnati
Oklahoma State
Ohio State
Oklahoma
Pitt
Texas A&M
Clemson
Arkansas
Let go: No. 18 Wisconsin, No. 20 UTSA
Others received votes: Wisconsin 100; UTSA 36; Appalachian State 30; Air Force 16; Minnesota 13; Purdue 11; Wyoming 8; Coastal Carolina 8; Penn State 5; UCLA 3; State of Fresno 3; Mississippi State 2.


https://www.cbssports.com/college-football/news/coaches-poll-top-25-oklahoma-state-enters-top-five-oklahoma-falls-from-top-10-in-college-football-rankings/ Coaches Top 25 Poll: Oklahoma State makes top 5, Oklahoma falls out of top 10 in college football rankings