Chiefs enable Clyde Edwards-Helaire to turn off IR ahead of Sunday's game vs. Cowboys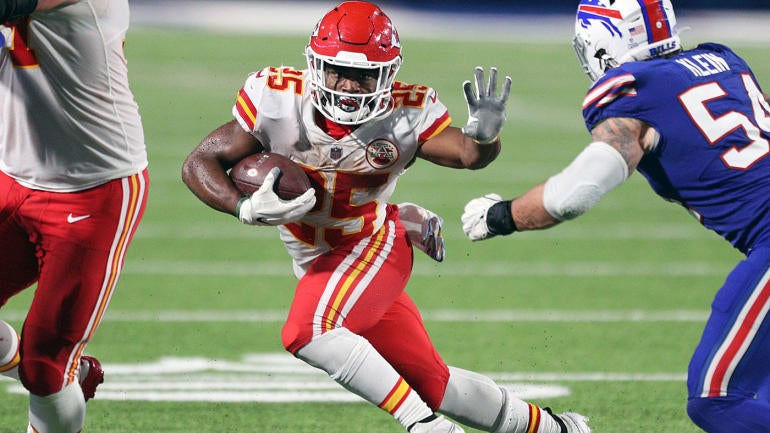 The Chiefs have activated Clyde Edwards-Helaire off of Substitute injured on Saturday and the backrun is set to return to the lineup when the Captains host a game against the Cowboys on Sunday. Edwards-Helaire has missed the Chiefs' past five games because of a knee injury.
Final first-round pick in the 2020 draft, Edwards-Helaire picked up an injury in Kansas City's Week 5 loss to Receipt. Edwards-Helaire ran more than 100 yards in consecutive games before the Captain lost to Buffalo. During the season, the former LSU Tiger ran for 304 yards while averaging 4.7 yards per take. Edwards-Helaire also received two touchdown passes.
In 13 games, Edwards-Helaire hit exactly 1,100 all-purpose yards and 5 touchdowns during his rookie season. He had two 100-yard dash performances last season, including his career-high 161 yards in the Chiefs' Week 6 win over the Bills.
Darrel Williams handled most of the workload during Edwards-Helaire's absence. Williams has run 343 yards and four touchdowns this season. He also had 31 tackles on 37 goals for 271 yards and one touchdown. Williams caught each of his nine goals in 101 yards and a touchdown in the Chiefs' Week 10 win over Raiders.
The Chiefs will face a Cowboys defense that is 21st to the pass but ninth to the run in nine games. Dallas has received great contributions from rookie quarterbacks Micah Parsons, who leads the Cowboys with 58 tackles and six sacks to date.


https://www.cbssports.com/nfl/news/chiefs-activate-clyde-edwards-helaire-off-ir-ahead-of-sundays-game-vs-cowboys/ Chiefs enable Clyde Edwards-Helaire to turn off IR ahead of Sunday's game vs. Cowboys