Castle on the Coast Review – Rigorous Fun
Just as I love 3D performance discs, very few of them really capture the controls. Simply put, most of them can't hold a candle to Mario, and I've long accepted that this is a fish most developers can't catch. Castle on the beach is a collectible game mainly made by one person. It is not particularly long, and the lengths of the individual segments are quite uneven. Still, this is the closest I've come to seeing a 3D platformer come to capture the happiness fueled by portability and quirky level design of the genre's best. I wish it had more content, but I'm still pretty overwhelmed by what this game has to offer.
Castle on the beach tells the story of a giraffe named George sailing to a, well, it is in the title. George is actually the mascot for Valley Children's Hospital in Fresno, California. The game is made in part to treat the children there. Upon entering the castle, we learn that the witch siblings, Aleandra and Vendrick, are at odds with the adopted children they are trying to take care of. They locked the door of their residence at the top of the tower and forbade anyone to enter.
One of the kids asked George to find the four key stones needed to open the way so they could apologize and try to get on the same page. The story is fully voiced with rich cutscenes. Castle on the beach there's a certain low-budget appeal to it, with the angular character models reminding me of the Nintendo 64 era. Still, the presentation picks up a really cool tone, which makes me feel an unusually childlike whimsy that I don't see games successfully exploiting all of that often. Castle on the beach has a very soft and sweet, yet undefined look that makes me feel deeply nostalgic.
Holy Giraffe
Simply put, the controls in Castle on the beach how wonderful. They are extremely agile and George, despite being a giraffe, is very mobile. He can jump, double jump, roll like Mario in Odyssey, rotate in the air and perform repetitive wall jumps. Many of the game's background challenges will be difficult with many of the main characters of the platformer game. With George, I can almost always save myself due to how perfect the gameplay here is. It was a pleasure. He also has a jet pack that can be used to make commuting easier.
In the center of the castle, there are entrances to four areas containing the boulders. But you will need to use the collections to open the door. These things are hidden everywhere, and the time I spent looking for them was blissful. This game attacked the pleasure centers in my brain. There's no complicated system stopping you from getting collectibles, you just have to approach them and they'll be checked. Plus, you can find flower petals everywhere to buy costumes.
Speaking of those outfits, some of them are different versions of George. But you can completely dress up as other characters, including villains. You can fight Aleandra while using Aleandra's character model. It is quite funny. I was very excited when I entered the first of the four main areas, as it has a lot of collectibles to take as the main center. Getting that first headstone felt so important, culminating in a trip to a strange world filled with rotating platforms that looked as if they were made of metallic, shifting paper. This got me excited to watch the rest of the game.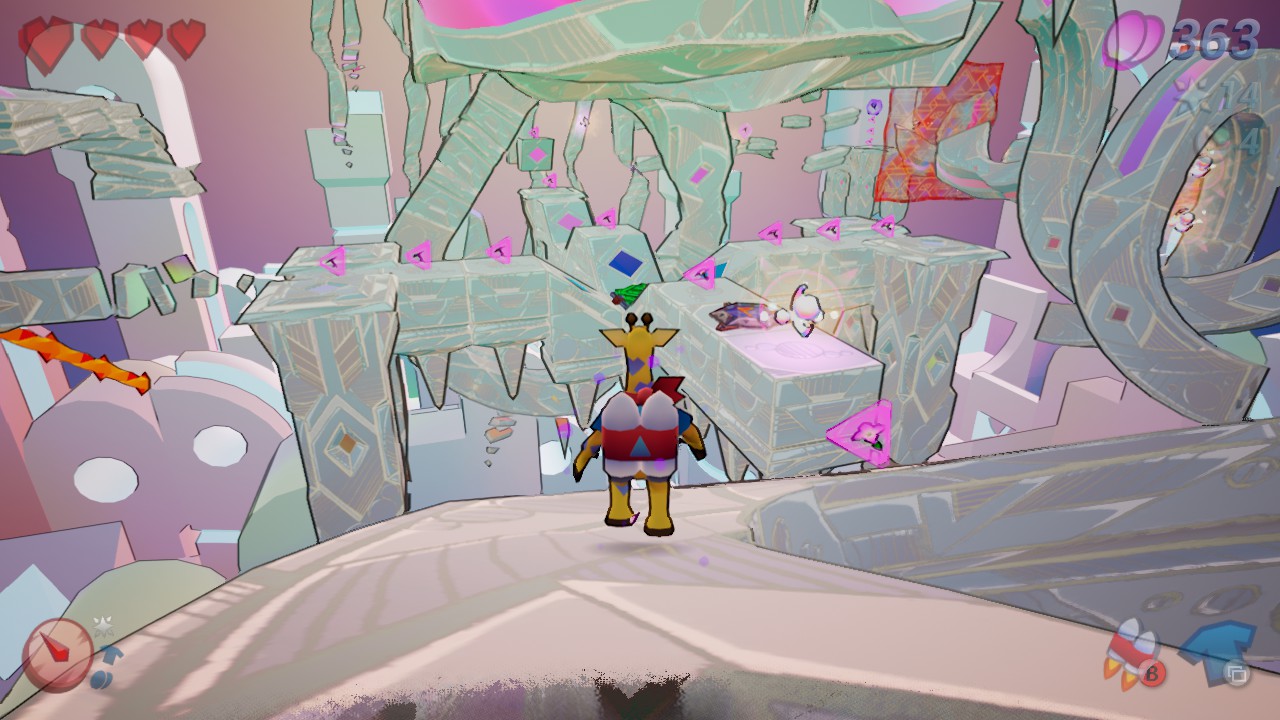 A vision
This section culminates with a boss battle. George can jump on enemies or spin on them. The rotation is the only part of his moveset that feels a bit odd to me, since it doesn't have much range. However, you can use it indefinitely on the ground, which turns him into a hurricane. And that's very fun. Beating this first boss gave me the first bottom line, and I started with the understanding that each of the other three would be similar.
When it came to the sequel, I was sad to see that there were half of the collections to find and the commit time was significantly shorter than my previous level. But this one also has its own boss fight, so I think, well, it's just the length difference. It's good now. But the other two areas are like an afterthought. These two areas have no gathering focus and no boss battles.
Don't get me wrong, the level design and gameplay are great in these as well, but doing the other stuff first has definitely blown up the rest of the game for me in a bad way. A first area focuses on driving through 10 laps with a car, followed by an obstacle course where you have to go through more laps while driving a sphere (or square, which is very difficult to navigate). controller). All four of these installments end by sending you to a strange otherworldly space where you have to overcome platform challenges. After collecting all four keystones, there is one more area, like the following two.
Castle on the beach It's not too difficult, plus there are a lot of checkpoints, so no one is likely to get frustrated playing it. However, the platform is engaging enough that even enthusiasts will have a great time.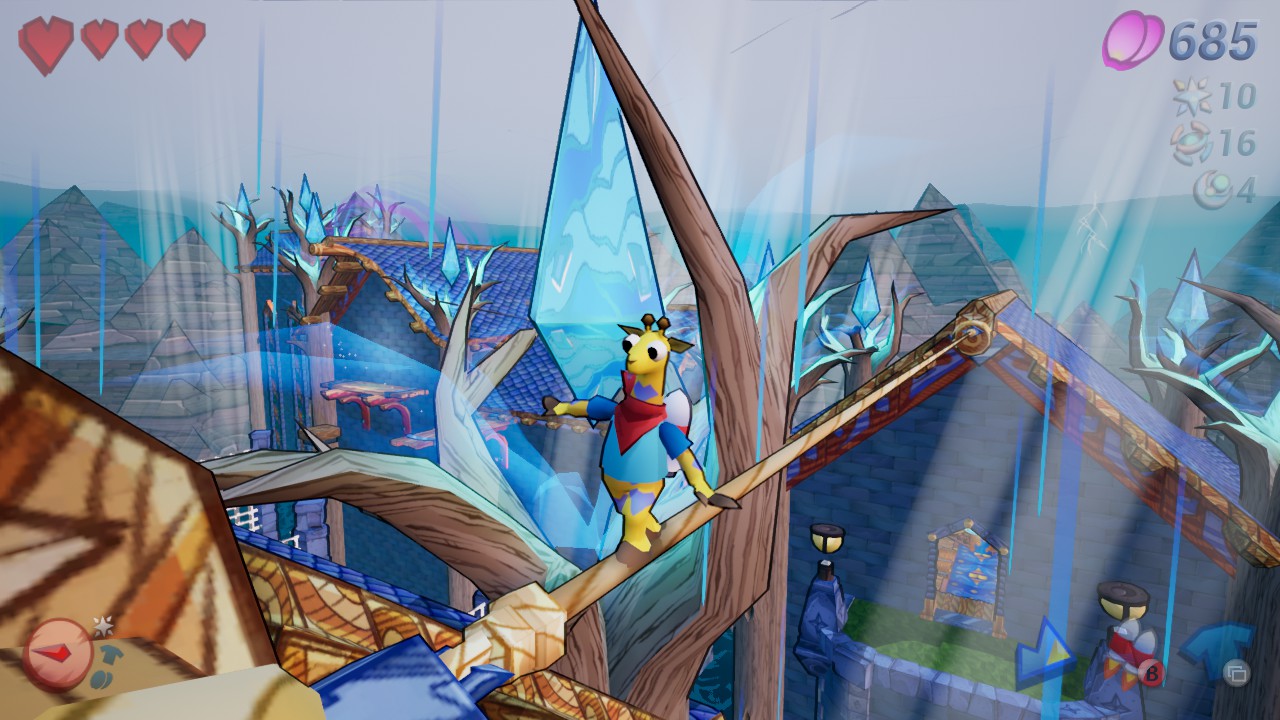 Castle on the beach It took me about 3.5 hours almost 100% done. Honestly, this is a great game only held back by its short run time and how inconsistent the lengths of each major region are. Also, it only costs $15 USD, and part of that goes to Valley Children's Hospital.
If 3D players are your bag, then this game is to play, even if it goes too fast. Between the sheer joy of double-jumping, twirling and diving in the air along with explosive jet-sets and enchanting magical zones, this is quite a special treat. I just hope that the game's designer, Peter Lantz, continues to make full-length games in this genre. The ball is in your yard, Peter.
https://www.pcinvasion.com/castle-on-the-coast-review/ Castle on the Coast Review – Rigorous Fun