At O'Flaherty's With Artist Jamian Juliano-Villani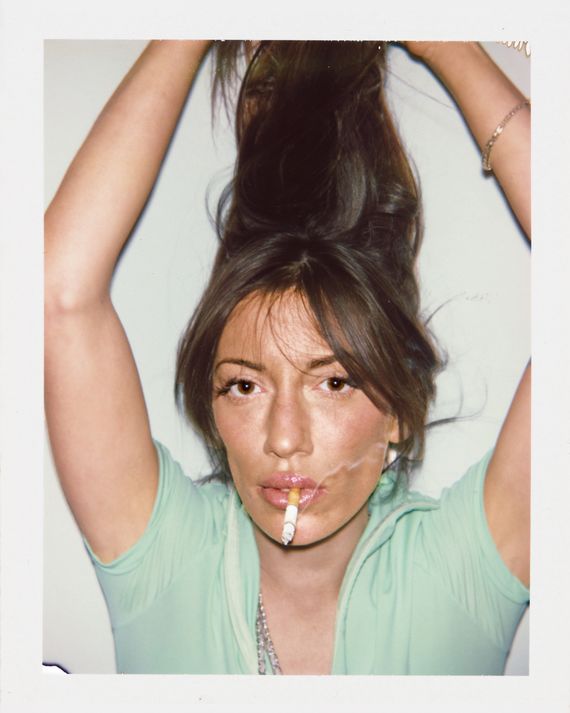 On a recent Wednesday night, O'Flaherty's, a new art gallery named for an imaginary Irish pub, has opened. The store front space, which has a neon sign in the window that says WHAT'S WRONG?, shares its property on C Avenue with a community garden, dentist clinic, and Kingdom Hall of Witnesses. Jehovah, is far from the elegant, museum-like megacities of West Chelsea. In the most overheated, self-serious, and property-hungry contemporary art market the world could ever know, O'Flaherty's has so far sold nothing; it's hard to say whether that's on purpose or not. By a little after 7 p.m., the gallery was filled with ragged young people, not wearing masks, and everything bathed in radioactive light. "Black light is important," says Jamian Juliano-Villani, an emerging artist, is one of the three founders of the gallery. "Taste is out the door."
Tasteless, or offensive, can be O'Flaherty's mission statement, a crude or fresh work of performance art that resembles a business. Juliano-Villani has found success for her paintings, which are a combination of Rockwellian promotional graphics, digital flotsam, and overall weirdness (her most recent show features a picture, about eight feet tall, of a leprechaun crawling out of a filthy toilet). Her work is selling well and is in the collection of Guggenheim and the Whitney. However, fed up with the mainstream gallery scene and its having to bow to what she sees as a sort of awakened right, Juliano-Villani decided to pause her painting for a bit of fun. make a scene, because no one else. "Never mind now," she said of her job. "That's why I started this. I was, like, so sick of it, you know? This is the thing. Art sucks. Nobody does anything cool."
Tiny, wrinkled and unbelievably vulgar, in jewel-encrusted sandals and deep tan, 34-year-old Juliano-Villani is something of a marvel in the world of MFA careerists. She founded O'Flaherty's with two longtime friends: her studio manager Billy Grant, who worked for her for eight years, and her childhood friend from Basking Ridge, New Jersey, Ruby Zarsky, a transgender musician. Grant, 37, an artist who enjoyed some success in his early years as part of the Dearraindrop collective, has some of Juliano-Villani's dotted worldly touches. Zarsky, 37, plays the resident adult; she had to show others how to lock the gallery gate after realizing they had left it open for weeks.
Juliano-Villani primarily sponsors the gallery and by herself embraces change, broke and unbroken. She plays me numerous flowery voicemail messages from her landlord in Bed-Stuy complaining about late rent ("Nine families, and only one has to give me grief. Why? My God. Why, why?" Was one; "Happy 4th of July, pay my rent," another) and opened a banking app on her phone to show that she had $0.39 in her account, but she also said she received $30,000 the next day: "I just had a big show in Shanghai, so I'm owe a large sum of money." Last month, one of her paintings surpassed high estimates in a contemporary Phillips auction, though that number was dwindled by her 2013 painting show at Sotheby's in Hong Kong in June, sold for about $400,000 – about ten times its estimate.
Team O'Flaherty: Ruby Zarsky, Billy Grant and Jamian Jullano-Villani.
Photo: Lucas Michael
Juliano-Villani grew up in Basking Ridge (famous for "Volvos, lacrosse players, heroin dealers," she said), where she was, she recalls, being prevented from doing art by her family. : "Damn it," was her father's advice. (He owns a print advertising business, Robbi Promotional, where her mother and brother work.) But Zarksy encouraged her friend, even providing some drawings of her. her own for Juliano-Villani's use in her art school applications. Juliano-Villani earned her BFA at Rutgers and then began working supporting Erik Parker and Dana Schutz. She never received an MFA. Within four years of her graduation, she performed in New York to some acclaim. NS The Observer called her work "fun, but scary" and "definitely a must-see."
O'Flaherty's opens in September with a show of works by LA-based artists Kim Dingle. Dingle told Juliano-Villani immediately: "She introduced herself as 'a real asshole.' She's brutally honest, so I know she's not an art dealer." But between that show and Anthea Hamilton's planned winter performance, the gallery was in disarray. "It's loved, This is the only bullshit we can get,"Juliano-Villani talks about the recently opened "emergency program", titled "Catch Chippy With It".
The show focuses on the sculptures of Norwegian provocateur Bjarne Melgaard. Owned by a private collector, for some reason, they were on display in a custom-built fast-food outlet that featured snacks from other countries. The trio of galleries sourced snacks from immigrant neighborhoods in the city and New Jersey, where they presumably offer a taste of home. They bought a used fridge box for neon orange Korean cola and La Cascada Naranja, sabor de El Salvador. They painted the walls purple and commissioned artist friends – paying at least part of it in ketamine in a transaction that happened about three feet from my face – to decorate them with glowing lightning, cards and an animal Animated (a toothed chipmunk, pierced- Bubble Yum speculum). "You can also buy chips if you buy paintings," says Ruby.
Melgaard's sculptures, from the "Allen Jones Remakes" (2013) series, are tables and chairs made from effigies of women. They mainly derive from their inspiration, "the infamous Jones"Hatstand, Chairs and Tables"The series from the late 60's in which his mannequin is Black. Jones' sculptures were controversial with feminists, and one was smeared when it was displayed at the Tate in 1986. Melgaard's work was also controversial; in 2014, art patron Dasha Zhukova is take a photo sitting on one of them, causing a bad smell. (To make matters worse, the photo was published on Martin Luther King Jr. Day.) "We have no idea," she said. "We just presented an idea."
And there's an audience for it: Hans Ulrich Obrist, the influential curator of Serpentine Gallery in London, stopped by. (Juliano-Villani posted on Instagram, "HUO loves soda!!!") Maurizio Cattelan, an Italian artist who doesn't need life. "Nothing is out of the ordinary, and that's why it's exciting and new," Dingle said of O'Flaherty's. Juliano-Villani booked strippers for her after-show party, but Dingle didn't attend, and after the show opened, the gallery didn't reopen for days. Dingle told me: "She was not a painter, and I think we all probably learned that during the time I worked there. "She's a person with more ideas." Even so, Dingle's show was well-reviewed in New Yorkers. But this didn't stop her from throwing Melgaards at me later: "I despise the poor performance at O'Flaherty's. It is racist and racist and shameful."
But back to that opening. The chips made up an arrangement, but some guests ate them anyway. On the ground, bags of cartoon chips with battery-powered dog toys make everyone's feet nervous. Meanwhile, Juliano-Villani and Grant joked about holding an off-campus symposium about the program and its thorny effects. "You want to talk about race? You want to talk about politics and identity and blah-blah-blah? ' said Juliano-Villani. "No! We'll go to Herr's chip factory, and people are, like, taken hostage there. You know?"
https://www.thecut.com/article/jamian-juliano-villani-oflahertys-nyc.html At O'Flaherty's With Artist Jamian Juliano-Villani