Africa Culture DLC Impressions – Is It Worth It?
The Humanity: African Culture Pack is a new DLC recently released. It adds loads of ways to refresh the game. It includes six cultures (or citizens), one for each era in the game. Likewise, you can explore the four natural wonders and build the cultural wonder Great Mosque of Djenné, as well as meet additional events and independent peoples.
I was able to try Humans: The Cultures of Africa DLC last weekend. Indeed, there are a number of nifty combinations I could try. However, I ended up letting go of some of the tried and tested options I used last year.
Humans: The Cultures of Africa DLC – Starting with Bantu

Once you reach the Neolithic Star and enter the Ancient Era, you'll be able to choose your first unique culture. Options added by Humans: The Cultures of Africa is Bantu. The Bantu are similar to the Harappan – what I assume is The best citizen in the Ancient Era – where their Tribes are automatically upgraded to their Icon Unit (Bagendi Vanguard). As nomadic-type units, I was able to accumulate a lot of food from victories in battles and looting, as well as curiosity. In return, I spawn dozens of Bagendi Vanguards capable of breaking through the early game.
Sadly, Bantu's iconic Quarter, the Mupia Fields, is a bit unwieldy. It replaces Outposts and adds +10 food to every nearby city, which has an impact on growth. However, the moment you move to another era and convert citizens, this bonus will disappear. I really had to play another campaign from scratch because I wasn't prepared for a huge drop in my food generation.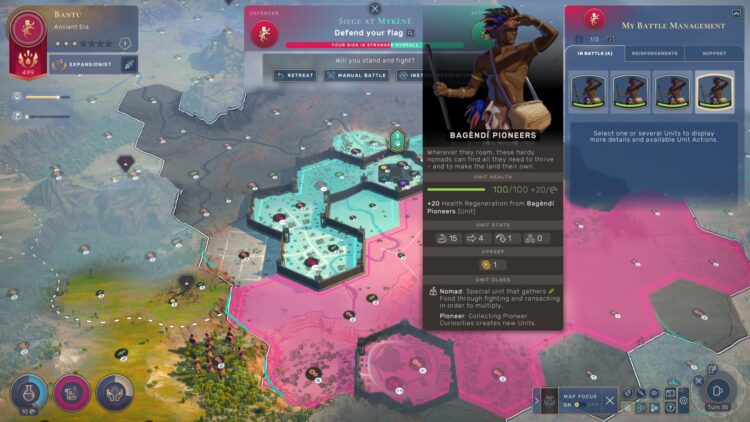 From there, I decided to play more carefully. I used my Bagendi Pioneers to settle and claim more distant territories (i.e. territories with natural wonders).
Four Bagendi Pioneers in a team can be consumed to create an Outpost/Mupia Fields, as opposed to spending influence. You can then recruit them from the Mupia Outpost/Field using influence. It was made to expand rapidly as that influence soon had little use other than unlocking civilian subjects.
War with Garamantes and make money as Swahili
When I'm ready, I move on to the Classic Era. Usually, common, normal, I will choose the Huns of the Classical Era for their Hunnic Riders. Because I'm playing Humans: The Cultures of Africa, I decided to go with Garamantes. Truth be told, I was truly amazed by the Garamantes' strangely powerful unit, the Javelin Riders.
Javelin Riders have +6 movement points (similar to Hunnic Horde). However, they also have 27 combat power, a huge +3 range, and they can move after attacking. Best of all, every Bagendi Pioneer you have can be upgraded to a Javelin Rider. Tactics of hit and run have never been this easy. Other units (i.e. Desert in Bloom and Foggara features) also provide food synergy and rewards for city growth.
After destroying the nearby independent peoples with my army, I decided to strengthen my forces and focus on the domestic army. It was around that time that I moved further into the Medieval Era to play the role of Swahili. Mind you, after the Bagendi Pioneers and Javelin Riders units, Mtepe of the Swahili let me down. As a naval transport, it simply displaces land units onto and across water cells, while giving them a ranged attack. Unfortunately, since I barely bothered with naval combat in this game, I used it sparingly.
What struck me about playing as Swahili were the other characteristics of the citizenry (i.e. Coastal Haven and Bandari neighborhood traits). The former adds stability to the harbors and the usual districts adjacent to the harbors. Meanwhile, the second building is a building that acts as a unique harbor renovation, while adding gold and influence. Given that I used some of my Bagendi Pioneers in the Ancient Era to settle near the coastal regions, I'm ready to make the most of what the Swahili have to offer a few later ages. . I should say I've been wanting to keep choosing Khmer people here because of their Baray.
In any case, the Medieval Era was also when I built the Great Mosque of Djenné, the only buildable/cultural wonder included Humans: The Cultures of Africa DLC. It's a creed-based wonder that allows you to use the Crepissage public ceremony. Continuing to use this multiple times will increase the amount of Fame. You can check out the image below that shows Bandari along the coast and the Great Mosque of Djenné further away on a plateau.
Other citizens in Humans: The Cultures of Africa DLC
While the first three citizens in Humans: The Cultures of Africa impressed me, the rest is not so eye-catching. The Maasai in the Early Modern Period had a focus on Agriculture, but their Maasai Morans were a bit odd. Looks like no units get upgraded to them, which means I have to recruit them separately. I usually choose Joseon or Ming here depending on my needs, which makes Maasai quite overwhelming.
Next, the Ethiopians were a militaristic choice for the Industrial Age focused on garrison defense. In fact, their Amba site is a fortification that can be built in the mountains (making it highly situational). I didn't use much of their unique unit, the Oromo Cavalry, as I went behind the tech race by not picking a single Science-based citizen.
Finally, Nigerians are there for the Contemporary Era. They are an Farmer citizen, although the farmers you designate also produce. Their Refinery and Vehicle MRAP also have good synergy. Oil refinery, once built, automatically generates a field of oil to be exploited. That oil is then used to power your MRAP Vehicle.
All in all, I quite like some of the new additions included in the Humans: The Cultures of Africa. Bantu, Garamantes and Swahili offer refreshing ways to go further in running your campaign. Unfortunately, I cannot say the same for the rest of the factions. There are cases where I really feel like I'm lame if I don't choose the ideal vanilla civs. If you are interested, you can visit new citizen guide, as well as ours guide and central feature.
https://www.pcinvasion.com/humankind-cultures-of-africa-dlc-impressions/ Africa Culture DLC Impressions – Is It Worth It?